Mr. Fred Jackson of Knoxville, Tennessee is most deserving of the title of homeowner! He is the proud owner of a rehabed home in Knoxville, Tennessee. The City formally owned the home, a HOPE 3 house, and provided financial assistance, funding for some repairs and a second mortgage making the home affordable.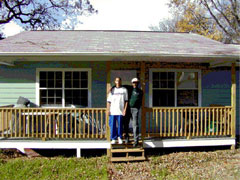 Mr. Jackson and his son in front of their house
Prior to 2003, Mr. Jackson experienced life as a Section 8 resident, with little hope of ever attaining the American Dream of homeownership. PHA officials at the local public housing authority "Knoxville Community Development Corporation (KCDC)" knew he had the potential to become a homeowner with help.
Mr. Jackson is a single father with one son, Justin. He is proud of this fact and had no intentions of raising his family on welfare rolls. The PHA referred him to the local the Knox Housing Partnership (KHP), a HUD approved counseling agency. They provided him with homebuyer education classes, credit and financial counseling.
Mr. Jackson learned and used the skills and techniques to correct credit problems, start a savings program, and prepare for homeownership. By the time the house was rehabilitated, his income had reached the point that he was no longer eligible to receive housing assistance. His credit score improved dramatically. He was using his skills so successfully that he no longer needed to depend on the money management/credit counseling classes. He does attend refresher courses. As a result of his efforts, he became a proud new homeowners in the Fall of 2003.
Both Mr. Jackson and his son, Justin, are thrilled with their expanded living space, which includes a very large yard. His home is where he is able to teach his son responsibilities and show him hard work does pay off. This home shines with pride.
At the time they moved in, Justin was in his senior year and became the quarterback of the football team at West High School. He is now a sophomore at Maryville College student and doing very well. His room at home provides him a safe and private place to study away from the college campus.
Mr. Jackson has been so pleased with becoming a homeowner that he now refers and encourages family members and friends to take advantage of HUD-Approved Counseling Agencies. He has become the Department's spokesperson that Homeownership is not out of the reach of public assisted housing residents. He is an advocate for change encouraging residents to leave welfare behind and move forward to improve their situation.
How does a family break bonds of housing assistance dependency? They do this carefully, with hard work, dedication. In this case, HUD resources played a major role. Mr. Jackson is a bright flame on a small candle. Mr. Jackson is the one who advises friends to walk down the path that can lead them up and out of a welfare system that sometimes seems inescapable. He has made very good decisions in his life and is determined to be a model father. He wants his son to see him with pride in his eyes and love in his heart.