The development of Tamarack, a four star, four season, world class ski resort, the U.S.'s first destination ski resort built in 20 years, heavily affected housing in rural Valley and Adams counties, north of Boise. The sleepy communities of Cascade, Council, New Meadows, Donnelly, and McCall suddenly experienced home prices rising at a ferocious pace.

Officials take bus tour of affordable housing projects.
Local city and county officials sought help to address the new challenge of coping with rapid growth while preserving affordable housing. On September 30, 2004, the Valley/Adams County Planning Partnership (VAPP), a coalition of 65 representatives of state, local, and federal agencies, as well as private nonprofit organizations, was formed. HUD's Boise Office, an early partner in the coalition, used its expertise in helping communities develop affordable housing while fostering economic growth, by chairing and staffing housing committees and facilitating partnerships.

Mystic Cove is a subdivision of 66 affordable single-family homes in Garden City built using CDBG and HOME funds. Buyers used FHA insured loans. Click for details.
On November 4, at the initiation of HUD's Boise Field Office Director Connie Hogland, government officials and housing industry professionals from the five affected communities boarded a bus for a first-hand look at affordable housing projects in the Treasure Valley area. Participants received a funding summary for each of the projects, which provided insight on possible funding opportunities available to build similar housing in their communities."
Together, VAPP members have been able to achieve small miracles and large accomplishments in less than a year, paving the way for a grounded transition from sleepy to high-energy growth in the area. Accomplishments include: funding a housing needs assessment, getting the FHA mortgage rates increased, and rallying the communities and concerned citizens around the sometimes overwhelming issues of badly needed housing policies and procedures, affordable housing, transportation, and land use planning. These actions helped avert disastrous effects from the positive economic engine of the ski resort development.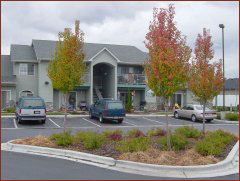 Shannon Glen is a 72 unit (56 affordable, 15 market, and 1 manager unit) apartment complex in Boise that received $550,000 in HOME funds. Click for details.
This same successful model was used in Blaine (Sun Valley) and Teton (Jackson Hole) counties encouraging the exchange of ideas and strategies to the benefit of all involved.