Ryan Companies US, Inc. Receives Prestigious National Trust/HUD Secretary Award for Excellence in Preservation for Midtown Exchange.
Pittsburgh, Pa. -- On November 2, 2006, the National Trust for Historic Preservation presented the prestigious National Trust/Housing and Urban Development Secretary's Award for Excellence in Historic Preservation to Ryan Companies US, Inc. for Midtown Exchange in Minneapolis, Minn. Ryan is one of 21 national award winners honored by the National Trust during its week-long 2006 National Preservation Conference in Pittsburgh, Penn.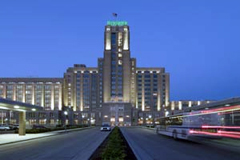 Midtown Exchange in Minneapolis, Minn
When Sears, Roebuck and Company announced plans to close its historic retail store in south Minneapolis in 1994, the news hit the struggling inner-city neighborhood hard. Only four years earlier, Sears had closed its catalog distribution center and warehouse at the same location, and the sixteen-story Sears tower in this low-income Minneapolis neighborhood-once a landmark symbol of stability and a commercial center for the area-had become a vacant building that seemed headed for demolition.
In 2001 the prospects for the former Sears building began to brighten when the City of Minneapolis acquired the property. When the city issued a request for proposals for the site in 2003, Ryan Companies US, Inc., a Minneapolis development and construction company that had just completed another successful preservation project, proposed to revive the historic Sears building. Ryan's ambitious proposal included seven floors of affordable apartments, eight floors of higher-end loft condominiums, a lively marketplace comprised of dozens of ethnic vendors featuring local food and crafts, nine floors of office space, a county service center, a branch bank and other retailers and services all accessed from a central "Main Street" enlivened with the work of local artists.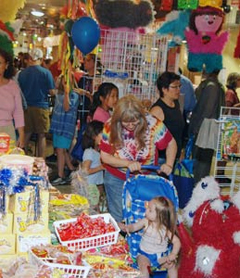 Midtown Exchange
In less than two years, residents and tenants started moving into the $190 million project, which Ryan dubbed "Midtown Exchange." Today, the reality of the project has surpassed expectations; the marketplace has become a bustling center of activity in South Minneapolis, and the surrounding neighborhood is thriving with new investment.
"The rehabilitation of Minneapolis's Sears building is a great example of how historic preservation and community revitalization go hand in hand," said Richard Moe, president of the National Trust for Historic Preservation. "Midtown Exchange has given new life not only to this historic structure, but also to a community that was beginning to lose hope. I am proud to honor Ryan Companies for this outstanding project."
The National Preservation Awards are bestowed upon distinguished individuals, nonprofit organizations, public agencies and corporations whose skill and determination have given new meaning to their communities through preservation of our architectural and cultural heritage. These efforts include citizen attempts to save and maintain important landmarks, companies and craftsmen whose work restores the richness of the past, the vision of public officials who support preservation projects and legislation in their communities and educators and journalists who help Americans understand the value of preservation.
A number of HUD programs contributed to this project: Section 108 Loan Guarantee ($6,500,000); Economic Development Initiative ($2,000,000); Empowerment Zone ($2,600,000); CDBG ($3,202,220); and HOME ($1,800,000).