Richard wanted a job. John wanted a place to live, even if it was "somebody's garage." Antwan simply asked for a pair of shoes. These three men were among the 200 homeless gathered at a downtown Asheville church for Project Homeless Connect (PHC). Sponsored by the City of Asheville, Buncombe County, and the Affordable Housing Coalition, it is the first by a North Carolina community to hold a PHC event. The event generated approximately 50 volunteers. This event was one of several held throughout Region IV. Other Region IV events included: Asheville, NC; Columbia, SC; Louisville, KY; Clarkesville, TN; Orlando, FL; Miami, FL; Atlanta, GA; Tampa, FL; Knoxville, TN; and Birmingham, AL

Project Homeless Connects sign
Event organizers billed it as a time to "give help and hope," and "a new way to reach the homeless." The Asheville PHC identified services needed for its participants, which agency was in a position to assist, and if residential treatment could be applied.
Organizations offered healthcare for homeless veterans, landlord services, haircuts, and women and child services. Greeting homeless customers at the door were an army of individual volunteers, who would walk each participant through the process of completing forms, and finding the information each needed.
Area churches, donating their vans and drivers, scoured the Asheville area - campgrounds were a good source for participants - looking for homeless individuals who would accept an offer to attend the PHC event.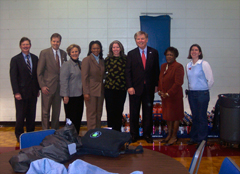 Event organizers
A dialogue session was conducted among event officials and some homeless individuals to propose ways to further address Asheville's homeless outreach.
Recent meetings among service providers and city officials to "fine-tune" the Asheville TYP judged the plan to be solid, and recommended that the plan continue moving forward.
HUD Regional Director Bob Young praised Asheville/Buncombe County for being a model of how a Ten-Year-Plan should be written and executed. Young also stated that "President Bush is putting the resources behind his commitment to not just address homelessness, but to end it" in places like Asheville.
Eddie Woodhouse, Special Assistant to the Regional Director and Regional Coordinator for the USICH, and Carol Jones, Acting Field Office Director, attended the event and answered questions of the PHC participants.
Asheville Mayor Terry Bellamy told the crowd that this was not an event for "blaming," but for "empowering." Mayor Bellamy said that the City's TYP "is not only on paper, but it is in practice. Our plan does sit on a shelf." She cited the decreasing chronic homeless numbers as hard evidence that the plan is already producing benefits.
Jennie Stultz, the Mayor of Gastonia, NC, anxious to conduct a future PHC event, drove to Asheville to observe the action.