HUD recently joined New Directions Housing Corporation and NeighborWorks America to celebrate the grand opening of New Direction's seventh Neighborhood Networks Center. The Shawnee Learning Center will serve the families that live in scattered site units of HUD-assisted multifamily housing in the historic West End and Old Louisville areas of Louisville, Kentucky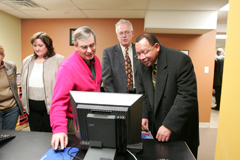 Shawnee Learning Center opening
Reflecting on the condition of the basement that has been transformed into a haven for young and old alike, New Directions executive director Joe Gliessner stated, "It took some imagination to see the potential. We started with an abandoned basement area-basically concrete walls and floor. Volunteers created a fantastic place for learning and community building."
New Directions, a large nonprofit affordable housing provider, is not only committed to providing quality housing opportunities, it is committed to building the spirit and academic abilities of the people it serves. Over a period of two years, the staff contributed $8000 through payroll deductions toward the development of The Shawnee Learning Center. Using that gift in addition to many in-kind gifts of labor by volunteers and businesses, the center was completed in nine months.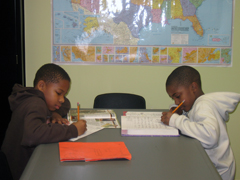 Children at Shawnee Learning Center.
Equipped with six computer stations that are connected to the Internet, a kitchen, a reading area, and several tables for studying, the children immediately began enjoying the new addition to their home. With over forty-two children living in the twenty-eight apartments directly above The Shawnee Learning Center, the Center will surely get a lot of use.
HUD's Neighborhood Networks is a program that encourages property owners, managers, and residents of HUD-insured and -assisted housing to develop computer centers where children have increased learning opportunities, residents can learn job skills, and older adults can participate in life long learning.