During the holiday season, the Newark Office "adopted" 8 needy families that have been assisted by the Apostles' House homeless shelter in Newark.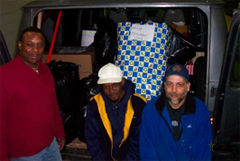 A.J. Evans presents gifts to Aziz Muhammad and Joseph Quinones of Apostles' House.
The effort was coordinated by Senior Community Planning & Development Representative Adolphus "A.J." Evans, and each Newark Office program division was responsible for helping one family. As a result of this effort, each family received about five large contractor bags filled with items based on family need profiles provided by Apostles' House. The gifts were all new and wrapped, and included such items as winter coats, boots, small kitchen appliances, blankets/sheets, housewares and children's toys.
On December 22, 2006, the Newark Office sent their holiday cheer in two cargo vans filled with these donations. The Apostles' House then presented the gifts individually to each family, which greatly brightened their holiday season.

From left, Newark Office staff members Robert Goldberg, Adolphus "A.J." Evans, John Gapszewicz, Cynthia Jefferson-Atkinson, and Pa-Kota Cobb help.
In thank you letters back to the HUD Office, the recipients said "Thanks for making me and my children so happy", "The gifts were truly a blessing", "Me and my son will have a great holiday", "Without you, we wouldn't have had a Christmas". The show of generosity by the Newark Office staff exceeded all expectations, and continued our tradition of providing "Blue Ribbon Service" to those in need in New Jersey.