Grand Rapids HUD Field Office Director, Louis M Berra and Department of Labor staff person, Pauline Sandoval-Bernes, both past and present members of the Armed Forces, volunteered their time to benefit others as part of the Sixth Annual Federal Day of Caring Event held on Monday, February 19, 2007 in Grand Rapids.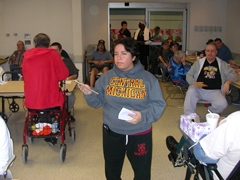 Tamya Bernes, who was previously involved in the JROTC program at Union High School where she often provided assistance to Veterans at the Home.
This event is in conjunction with the Combined Federal Campaign, which calls upon West Michigan Federal employees to help out local nonprofits on what is considered a federal holiday. Several organizations were selected to receive assistance during this year's event. They were Second Harvest Gleaners, Child & Family Resource Center, Gilda's Club and Veterans Retirement Home.
Lou and Pauline along with Pauline's daughter, Tamya Bernes spent the afternoon at the local Home for Veterans by helping with a Bingo event in an effort to provide an uplifting, fun activity for residents.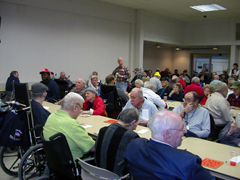 Louis Berra (standing) is ready to pass out envelopes of money to Bingo Winners.
This Veterans Retirement Home houses all members of the Armed Forces of the United States who have been honorably discharged and have served not less than 90 days during a designated wartime period. In addition, parents, widows, widowers, former spouses and spouses of eligible veterans are also eligible for admission to the Home.
More than 50 residents took a part in the festivities where volunteers also provided snacks for everyone. Another significant event also took place on this same date for two of the residents at the Home who were celebrating their 65th Wedding Anniversary. Upon hearing about this, Pauline made a special trip to bring back balloons and a box of candy to recognize the couple's special day.
The volunteers want others to know that the Day of Caring offers you an unforgettable hands-on experience and a rewarding feeling by helping those in need in the community and demonstrates the power of generosity among friends, neighbors & coworkers.
Hats off to this year's volunteers!!