The night of March 1, 2007, a string of powerful tornadoes pushed through rural south and central Georgia. Lives were lost and hundreds of homes and businesses were damaged or destroyed.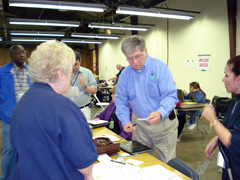 HUD Atlanta Regional Director Bob Young and general FEMA staff
Twenty-two counties were hit. Nine were declared federal disaster areas. On March 3 President George W. Bush visited the hardest hit area, the City of Americus, where the hospital took a direct hit and is no longer in use.
Similar tornado outbreaks and wind damage occurred in Enterprise, Al and central South Carolina.
HUD's Region IV response was guided by the regional disaster plan adopted in 2005. The plan is a blue print for working with local, state and federal agencies in HUD's supporting role.

HUD Atlanta Regional Director Bob Young with Alicia Jackson-Fluellen, Regional Administrator for Georgia Dept of Community Affairs Rental Assistance Division.
In Georgia on March 5, at the request of FEMA, HUD prepared an inventory of subsidized housing available within a 50 mile radius of the city of Americus. HUD's Regional Disaster Coordinator Emma Newsome also provided FEMA with critical information about the Georgia Department of Community Affairs web-based housing database. In the meantime, Erika Robinson-Pean of HUD's Atlanta Multi-Family office, was assigned to join other agencies at the FEMA Joint Field Office (JFO) in Cordele.

On March 7, HUD Regional Director Bob Young and Faith Based and Community Initiatives Coordinator Teresa Chappell paid a courtesy call on the FEMA supervisors and HUD partner agencies at the Disaster Recovery Center in Americus. While at the center the HUD team distributed fair housing information. Later they took an orientation tour of the FEMA JFO.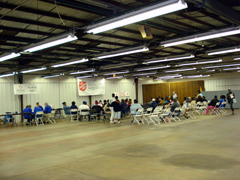 Disaster Recovery Center.
HUD Regional Director Young and HUD Coordinator Chappell also visited with the Chief Administrative Officer of the City of Americus, Charlotte Cotton, to leave information on HUD programs that would be helpful to the city in its rebuilding.
On March 7, the State of Georgia began asking for waivers of CDBG and HOME program regulations in order to have more flexibility to use HUD resources to respond to the disaster.
On March 9, RD Young visited with the county commission chairmen in two of the other hard-hit counties - Warren and McDuffie Counties - to discuss HUD support in their reconstruction programs.