On February 20, 2007 in Birmingham, Alabama, HUD Assistant Secretary for Housing-FHA Commissioner, Brian Montgomery and HUD Acting General Counsel and President of Government National Mortgage Association (Ginnie Mae), Robert Couch attended a program to recognize New South Federal Savings Bank for 60 years of FHA lending. New South Federal Savings Bank is a part of the Birmingham-based Collateral Family of Companies that has done over $5 billion in government lending, aiding almost 100,000 families throughout the country.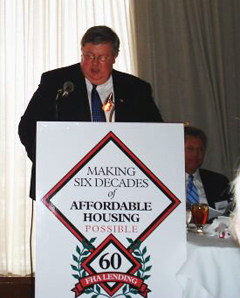 Brian Montgomery, HUD Assistant Secretary for Housing-FHA Commissioner addresses anniversary program for New South Federal Savings Bank.
New South Board Chairman, William T. Ratliff, III noted during the program, "For most of Collateral's history, FHA was the backbone of our loan products, enabling us to serve our customers and grow the company when conventional lenders did not want to serve any but the credit-worthiest of borrowers. Today, as back in 1946, we strive to make homeownership possible for every willing and able borrower and FHA remains a vitally important product for us in reaching that goal."
Montgomery took the opportunity to inform the audience of proposed changes in the FHA program to make it more competitive on today's market. The reforms initiated by Montgomery are widely credited with improving industry's view of FHA loan products.
New South Federal Savings Bank, as a long time HUD approved lender, administers HUD's FHA mortgage insurance program and provides non-recourse financing for multifamily properties and healthcare properties. Over 150 affordable housing leaders, government officials, and mortgage lenders participated in the anniversary program which was held at the Club in Homewood, Alabama.