"Why Have There Been No Great Women Artists?" Mattie McLaughlin-Schloetzer, of the Carnegie Museum of Art, stirred great interest with the Pittsburgh Field Office staff when she announced this would be her topic. Her PowerPoint presentation refuted this misconception and provided information about four influential female painters.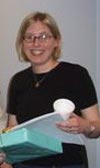 Mattie McLaughlin-Schloetzer
Ms. McLaughlin-Schloetzer's presentation centered on three renaissance painters, including Sofonisba Anguissola, Lavinia Fontana and Judith Leyster. While Anguissola and Fontana focused on portraits and religious themes, art intended for the upper classes, Leyster was famed for her quiet domestic themes and genre pictures, intended for enjoyment by the middle class.
The last featured artist was Pittsburgh's own Mary Cassatt. An impressionist, Cassatt studied art in Philadelphia, before moving to Europe to study the grand masters on her own. While in Europe, Cassatt befriended Edgar Degas, who invited her to display her work with the Impressionists. Cassatt's work focused largely on the private lives of women; most particularly on the intimate bonds between mothers and children.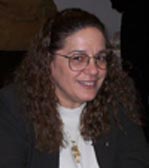 Cindi Gillespy
The program included tea, pastries and "pillow cookies", a recipe for a fudge like candy that originated from Mary Cassat herself. Cindi Gillespy, Office of Public Housing employee, was honored for her voluntary service as a civilian worker in Iraq. Attendees stated that the presentation was both an "informative and interesting" way to celebrate the accomplishments of these talented women.