On March 27, 2007, at the Medical Forum Building auditorium and to a record crowd, the Birmingham HUD Office hosted a multi-agency program in recognition of Women's History Month. Following this year's theme, "Generations of Women Moving History Forward" Regina Jones of the U.S. Department of Labor gave a history of the movement that created Women's History Month and spoke of some of the outstanding accomplishments women have achieved over the years. CPD Director, Harold Cole gave greetings on behalf of Field Office Director, Cindy Yarbrough. Liz Spraggins, an English Instructor at Miles College, nationally recognized vocalist, and lifetime evangelist provided words and song of inspiration. Ms. Spraggins beautifully sang gospel classics a capella. Laura Owen, Multifamily Project Manager said, "It was as though I could actually feel her words running through my body." The event drew participants from a number of other federal agencies and about twenty-five local Wal-Mart employees who had heard about the program and asked to participate.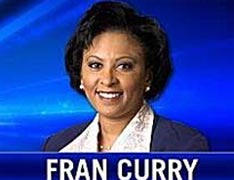 Fran Curry, news anchor at WVTM TV NBC-13 in Birmingham.
Though all of the speakers were excellent, the unquestioned high point of the program was the presentation by keynote speaker, Fran Curry, news anchor at WVTM TV NBC-13 in Birmingham. An accomplished journalist, Ms. Curry has a B.S. degree in journalism from Boston University, has completed work toward a master's degree in Public Administration and has been nominated for an Emmy for her work as a journalist. But on this occasion Ms. Curry stepped out of the role of news anchor, and into the role of neighbor and community member. To say that her presentation was inspirational would be an understatement, as both the women and the men in the audience would form a universal opinion of great acceptance and appreciations for her message.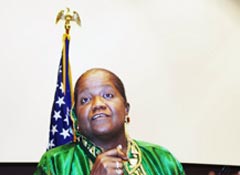 Evangelist Liz Spraggins moved the audience both with her voice and her words of inspiration. She sang and she prayed until she moved the audience to tears, and then she sang a little more.
Ms. Curry noted from the beginning of her remarks that she was glad that one of the earlier speakers had addressed the history of the Women's movement, because what she wanted to talk about was the present and the future. She spoke of the decline in values that she observes both as a journalist and as a woman, and what it will mean to society if we do not do something to stem the tide. She spoke from her faith, and from the lessons her parents taught her, and she held the attention of every individual in the room as she wove a tale of the love and guidance she received as a child, and the difference those things continue to make in her life.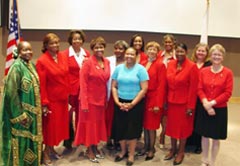 NBC 13 News Anchor Fran Curry, (center) and Evangelist Liz Spraggins (far left) join members of the Birmingham Women's History Committee to celebrate Women's History Month Program. Program Committee included: Michelle Greene, Vicki Pippen, Glenda Gray, Yvonne Debose, Bernice Jones, Robin Ferguson, Roberta Lecznar, Adrian Peterson-Fields, Debra Pippen-Johnson, and Committee Chair Person, Gale Harris.
Most felt this was one of the most inspirational programs of their federal careers. Everyone walked away from the room with a better understanding of the history of the women's movement and the contributions of women to history. In addition, Ms. Curry brought home to participants the importance of properly developing our young women, and she inspired everyone to think of what they can better do to transfer traditional values to future generations of women.