On March 26, 2007, the Community Network Learning Center (CNLC), formerly known as the Valley Garden Activity Center in Huntsville, Alabama received HUD recognition as a "Model Center;" one of only four designated by HUD nationally. CNLC provides a variety of resources such as computer training, internet access, job readiness support, literacy training, after-school youth programs, homework assistance, health and nutrition classes, adult education and much more. Located in the Oxford Townhomes/Valley Garden Apartment communities, the Center partners with local and national businesses, educational institutions, nonprofits, fraternal organizations, and local, state, and federal governments to provide these and other services to low and moderate-income Huntsville residents. Through a variety of programs, the CNLC serves individuals from birth to senior adults and has served more than 600 individuals since opening in December, 1977. Valley Gardens is a HUD-insured Multifamily subsidized apartment complex.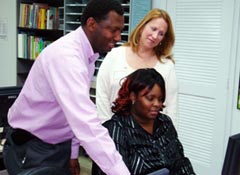 HUD's Neighborhood Networks Coordinator, Marcia Fullerton looks on as Volunteer Instructor Pat Garner works with resident Cassandra Moore on a computer in the Community Network Learning Center.
At its annual winter meeting in Washington, D.C. on March 4-6, 2007 NAHMA recognized nine property owner/managers as winners in the 14th annual Communities of Quality Awards. The awards are an acknowledgement of excellence in the physical and financial condition of the properties; the quality of life they offer to residents; the level of resident involvement in planning and problem solving; and the nature of collaborations with other organizations and agencies that contribute to the betterment of the lives of residents and the communities at large. The nine winners for 2006 were chosen from among 44 properties that qualified nationally. Oxford Townhomes in Huntsville, Alabama, managed by Oxford Properties was named the 2nd place winner as an "Exemplary Family Development."
| | |
| --- | --- |
| Oxford Property staff, Bill and Barbara Kennedy and CNLC Director Carolyn Harris and staff Donna Campbell proudly display the plaque presented by local HUD staff on behalf of HUD Headquarters Office of Housing Neighborhood Networks. | Larry Sisson, Southeastern Affordable Management Association represents NAHMA in recognizing Bill Kennedy, Oxford Properties, and Oxford Townhomes/Valley Garden Apartments. |