Tommy and Valarie Rider were recently presented with keys to their new house at a ceremony celebrating the 100th home purchased through the Louisville Metro Housing Authority's (LMHA's) Section 8 Homeownership Program. LMHA was one of the first organizations in the nation to use Section 8 funding for mortgage payments instead of rent. The program, which started in 1997, combines the subsidy with extensive pre- and post-purchase financial counseling and Individual Development Accounts. These accounts help to cover any home maintenance or repair costs. Families who participate in the program receive rental assistance through Section 8 vouchers or live in public housing at the time of enrollment. Once they are approved to purchase a home, subsidies that were used to pay rent are then used to subsidize the home mortgage. Families participating in the program have an average income of $16,000 and are either working families with children or are persons with disabilities.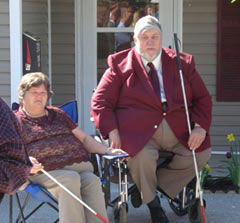 Mr. and Mrs. Rider were presented with keys to their new home. This is a goal that they have dreamed about and worked toward for a long time.
To ensure the program's success, the HUD Louisville Field Office public housing staff provided extensive technical assistance to LMHA, which was the Jefferson County Housing Authority prior to the merger of the city and county governments in 2000.
After years of living in LMHA rental housing, Tommy and Valarie heard about the program and decided that they would like to give it a try. Both Tommy and Valarie are visually impaired. They attended months of rigorous financial counseling and met all of the requirements that enabled them to reach their goal. Now they are an inspiration to others. The Riders were so proud of their new home that they gladly provided a tour for those who were in attendance at the celebration.
HUD Louisville Field Office Director Krista Mills, Mayor Jerry Abramson, Congressman John Yarmuth, Kentucky Housing Corporation CEO Ben A. Cook, guests, and friends congratulated the Riders on achieving the American dream of homeownership while also recognizing LMHA for pioneering the use of Section 8 vouchers for homeownership.
So far six of the 100 families who have purchased homes through the LMHA Section 8 to Homeownership Program have already seen their incomes increase to the point where they no longer need housing voucher assistance.