Diane Arters and five of her children recently moved into their own home in Hailey, ID, with help from the American Dream Downpayment Initiative (ADDI). ADDI funds, which are administered in Idaho by the Idaho Housing and Finance Association (IHFA), may be used to pay downpayment and closing costs, as well as reasonable and necessary costs associated with the purchase of the home which are incurred by the homebuyer, local agency or lender.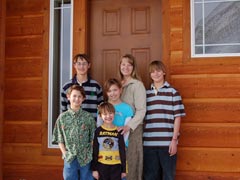 Arters family on the front porch of their new duplex.
Three of Diane's children were living with her in an apartment, and when two more children wanted to move in with their mother, living conditions for the family became very crowded. The family's new home is a four-bedroom duplex, which allows everyone to have more space and settle in comfortably. "We didn't fit into typical apartments, because we exceeded the occupancy limits," Diane said.
Diane, a paraprofessional in special education at the local high school, (a job which allows her to spend more time with her family), completed a class online to qualify for the ADDI program. She credited the US Department of Agriculture (USDA) for helping her acquire an affordable loan, and the Blaine-Ketchum Housing Authority for completing the duplex into which she and her family moved. After living in cramped apartments for so long, the move was a blessing to the family. "Being able to get something closer to a home was miraculous," Diane said. "Everything else (other homes in the area) costs, at a minimum, twice what this did."
Although still knee-deep in boxes and putting together bunk beds, Diane feels like she just won the lottery. "We've got some really great views and it's very peaceful," she said. "I've got some big thank you's to pass out... we couldn't have done it without ADDI."