Shelby County Mayor A C Wharton and City of Memphis Chief Financial Officer Robert Lipscomb joined Yvonne Leander, HUD Memphis Field Office Director, in a ceremony held March 14, 2007, to celebrate the award of $4.9 million to the Memphis/Shelby County Continuum of Care. The grants will go to 13 agencies for 19 different programs that aid the chronically homeless.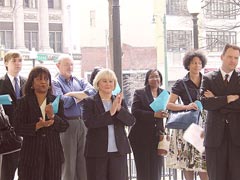 Crowd of providers, elected officials and media attending the ceremony held in the Downtown Court Square Gazebo.
Chief Financial Officer for the City of Memphis, Robert Lipscomb, gave welcoming comments and remarked how Ms. Leander has embraced Memphis and has committed to it as her community since relocating here 6 years ago. Ms. Leander presented the ceremonial check for $4.9 million dollars to the Memphis/Shelby County Continuum of Care. That figure represents 31% of the Tennessee State total of $15.9 million. Some 125 persons, including representatives from local offices of U.S. Senator Lamar Alexander, U.S. Senator Bob Corker, and U.S. Congressman Steve Cohen, attended the ceremony. On the grounds of Downtown Court Square where many of the homeless can be found, Ms. Leander spoke about the homelessness program and HUD's recent Annual Homeless Assessment Report to Congress.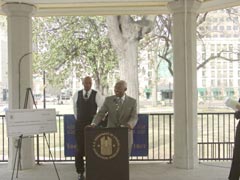 Shelby County Mayor A C Wharton making comments, joined by City of Memphis's Chief Financial Officer Robert Lipscomb.
"Let's remember that when we talk of grants and dollars, we're actually talking about someone's life or a whole family's existence." Leander said. She went on to tell the story of a young mother in her third year of a Salvation Army program, reiterating the lengthy time and many dollars it takes to make the life changing-experiences these programs facilitate.
Administrator, Homeless and Special Needs, City of Memphis Mary-Knox Lanier recognized each grantee, each program and the number of people they served during the year. Pat Morgan, Executive Director for Partners for the Homeless addressed the status of the City's 10-Year Plan to end chronic homelessness. She also told about the new program this year that brings the total number of permanent supportive housing in the pipeline to 77 needed units. She said, "This is not a reward for being chronically homeless...it's a new approach to ending homelessness for people with serious chronic disabilities."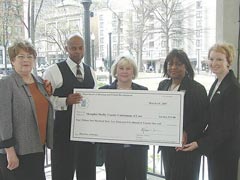 L-R Mary-Knox Lanier, Administrator, Homeless and Special Needs, City of Memphis Robert Lipscomb, Chief Financial Officer, City of Memphis, Pat Morgan, Exec. Director, Partners for the Homeless Constance Graham, Exec. Director, Greater Memphis Interagency Coalition for the Homeless Yvonne Leander, Memphis HUD Field Office Director.
In his closing remarks, Paul Morris, Chairman of Quality of Life Committee, Center City Board, reminded the audience that it takes a lot more than Federal dollars to end homelessness. It takes each of us, giving individually to the community organizations helping the homeless, to enable them to stretch their dollars to keep these clients on their way to independent living. This event was attended by most major media outlets and received significant local media coverage.