The Town of Blacksburg, a fast-growing community of more than 40,000 in the New River Valley of southwestern Virginia, is one of HUD's newest CPD entitlement communities, first joining the program in 2005.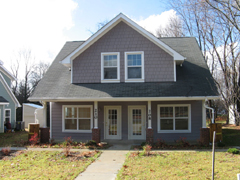 Home in the town of Blacksburg
But it is already an "old hand" at developing affordable and energy-efficient housing.
Consider its recent undertaking with Community Housing Partners Corporation to build 14 new houses in Blacksburg's historic Roanoke-Lee Street district.
"We were very happy to be designated as an entitlement community," commented Matthew Hanratty, director of housing and neighborhood services for the Town, "because the CDBG funds that come with it are a dependable revenue stream that permits us maximum flexibility on addressing the full range of issues and opportunities that arise in a community that faces considerable pressures because it's home to a major university like Virginia Tech."
CDBG's flexibility, he said, permits the Town to be an innovator. As it and Community Housing Partners have been in the Roanoke-Lee district.
The seven duplexes - initially subsidized with a CDBG small cities grant from the Virginia Department of Housing and Community Development and more recently from the Town's CDBG entitlement funds - were designed to be "green from the get-go," Hanratty noted.
They are specially insulated with recycled materials, use "super-efficient" windows and use Energy Star rated appliances. As a bonus, the local electric cooperative "undergrounded" utility lines. While remaining affordable to low- and moderate-income buyers, the Town and Community Housing Partners Corporation estimate that they are up to 25 percent more energy-efficient than the typical new home.
And that's caught the attention of the U.S. Department of Energy and the Environmental Protection Agency which, in March, awarded Community Housing Partners Corporation a 2007 ENERGY STAR Award for Excellence in Energy Efficient Affordable Housing., one of only six award winners nationwide.
The honor, Community Housing Partners Corporation President Janaka Casper told The Roanoke Times, demonstrates "that we're a national leader in affordable, green building. That has been a strategic goal of ours, to incorporate green building in everything we do."
"The award," Hanratty added, "clearly suggests that Virginia's New River Valley is fertile ground for new ways to produce affordable, efficient housing."
In 2001, then HUD Deputy Secretary Alphonso Jackson launched HUD's 21-point Energy Action Plan, an element of which is use of CDBG funds to promote energy-efficient housing. The Plan projects that cutting HUD's energy costs by just 5 percent could realize savings of some $2 billion over the next ten years through the kinds of activities that Community Housing Partners and Blacksburg have undertaken.
# # #