Performance Poetry to Celebrate Fair Housing Month? What a unique idea!!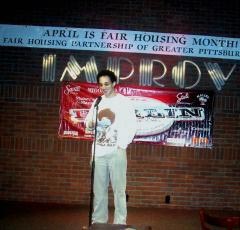 Jay Dworin of the Pittsburgh Fair Housing Partnership is emcee for a Night at the Improv-"Ending Segregation-Just Say the Word."
The Pittsburgh Field Office participated with the Fair Housing Partnership of Greater Pittsburgh on April 17, 2007 at the Improv Club in Homestead, PA. "Ending Segregation: Just Say the Word" was the theme that attracted 25 performers, including Pittsburgh Field Office Operations Specialist, Cindy Haines. Each took to the stage to talk, sing, rap or recite original works focusing attention on ending segregation.
The artists' creative energy was palpable as each one took to the stage and offered their provocative renderings on ending segregation in our neighborhoods, communities, cities and country. Slam poetry is bold, aggressive, honest and loud. It was all of that and more in this unique venue on this special evening.
Self-disclosure, heartfelt emotions and tearful pleas were present and accounted for as artists let loose on the audience. The goals of enlightening and moving the audience to take notice were clearly met as evidenced by the reactions and applause of the engaged crowd of on-lookers. Field Office Director, Cheryle Campbell, who was on hand to lend support, added that, "this creative expression and individual candor was not only riveting, but also one that engaged everyone to end segregation - now."