(As reported by Carly Hanrrington, of the Knoxville News-Sentinel) Sara Sizemore landed a contract with the federal government the first year she opened Southern Safety Supply.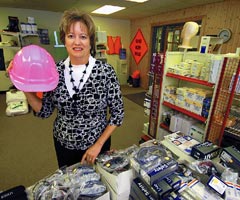 Sara Sizemore, owner of Southern Safety Supply at 3700 Pleasant Ridge Road, says companies can get tax breaks for contracting with a federally certified business like hers. Sizemore landed a federal contact shortly after opening her business 10 years ago.
But the 46-year-old small-business owner and mother of two who sells safety supplies and industrial equipment was so overwhelmed with paperwork she didn't think she could make a living from it.
"I thought I should do what I know best, which is sell. I decided to focus on getting my system in place," Sizemore said.
Ten years later, Sizemore is ready to grow her business at 3700 Pleasant Ridge Road and to compete for federal dollars.
Sizemore was one of nearly 200 business owners who attended the 2007 Small and Disadvantaged Business Conference on Tuesday at The Foundry at World's Fair Park to learn more about potential opportunities in securing federal contracts.
Representatives from the Small Business Administration, General Service Administration and Housing and Urban Development agencies were on hand and spoke about different programs and services aimed at helping small businesses do just that.
"There are a lot of opportunities for federal contracts. Each department has goals for contracting with small businesses and works to exceed them," said Valerie Hayes, acting director of HUD's Office of Small and Disadvantaged Business Utilization and the conference's keynote speaker.
Hayes pointed to the 70 percent of small businesses that secured a HUD contract last fiscal year. The agency's goal was 45 percent.

Among the safety items and industrial equipment in Southern Safety Supply's showroom are coats and harnesses like these. The womanowned company does a lot of business through federal government contracts.
Entrepreneurs, she said, must do their research and know about the agency they're interested in doing business with.
"There's nothing worse than a first impression of 'I don't know' to one of the decision makers of these contracts. That's how they are going to remember you," Hayes said.
The first step should be the SBA office, which offers assistance in areas of finance, government contracting and counseling, she said. The SBA also certifies small businesses that meet specific social, economic and ownership eligibility criteria.
For instance, Sizemore is a federally certified woman-owned small disadvantaged and minority business.
That's really important, Sizemore said, because companies can get tax breaks for contracting with a business like hers.
Many federal contracts are available to small businesses through the GSA, which is responsible for more than one-fourth of the government's total procurement dollars. Those range from advertising and engineering services to office furniture and supplies.
"The biggest thing is to understand what you're getting into. Read the solicitation and make sure it's a good fit for you," said Jerry Keith, GSA senior marketing specialist.
The GSA also has an online catalogue at www.gsaadvantage.gov, where businesses can upload their products and services for government entities to come and shop.
But businesses that are serious about being a provider must go out and market themselves and form relationships just like any other customer, Keith said.
"It really is not as hard as people think it is," Hayes said. "I wouldn't say it's easy, but it can be simple if you follow certain steps."
The conference was sponsored by the city of Knoxville and the U.S. Department of Housing and Urban Development. It grew from a series of small-business workshops sponsored by the city, HUD, SunTrust Bank and the University of Tennessee College of Law.