In a May 1, 2007, ceremony full of the American spirit, the U. S. Department of Housing and Urban Development recognized Wilkes Co, North Carolinas a new Preserve America community.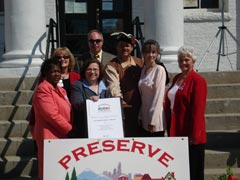 (L - to - R) Carol Jones, Greensboro AFOD; Linda Cheek, Wilkes Chamber of Commerce; Pat Hoban-Moore; Dennis Huggins, Co-Chair of Save Our Wilkes Co.; R.G. Absher Co-Chair, Save Our Wilkes Co.; Jean Graf, SInger; Rebecca Triplett-Johnson, Save Our Wilkes Co. Committee.
Held on the front lawn of the Wilkes Heritage Museum in Wilkesboro, NC, at the former site of the Wilkes County Courthouse, HUD Region IV Deputy Regional Director Pat Hoban-Moore presented Wilkes Co. with a certificate of recognition and one of 10 Preserve America highway signs that will be hung along roadways throughout the county. In her keynote address, Hoban-Moore commended Wilkes County officials for passionately "preserving your heritage and turned it into a walking tour that highlights thirteen buildings which reveal your history."
Carol Jones, HUD's Acting Greensboro Field Office Director, commended local officials for their fervor in preserving their history. "Wilkes County is a great example of how a community takes pride in their past," said Jones. But what's unique about Wilkes County is they've not just spoken about their heritage, but they've made the commitment to preserve it."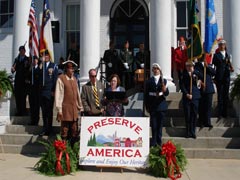 Pat Hoban-Moore makes Preserve America Designation presentation
Some citizens dressed in authentic Revolutionary War attire, representative of the history of the Wilkes County area during the Revolutionary War. Wilkesboro cites itself as being a major assembly site of Revolutionary soldiers.
The dedication ceremony will be permanent part of a Wilkes History documentary, which is currently being filmed throughout the county.
Among the crowd of 100 spectators were representatives of U.S. Senator Elizabeth Dole, U.S Senator Richard Burr, and Congresswoman Virginia Foxx.