The Metropolitan Atlanta Federal Executive Board (FEB) under the coordination of Bob Young, U. S. Department of Housing and Urban Development (HUD) Atlanta Regional Director and Chairman of the 2007 Awards Program hosted the 2007 Awards Program at the Georgia Aquarium. This was the 34th Public Service Awards Program. More than 140 federal agencies - 140,000 federal employees were represented at this event. Fourteen award categories ranging from Manager of the Year, Secretary of the Year, Group Award, to Hero of the Year Award will be presented at the event - over 600 submissions for awards from federal agencies.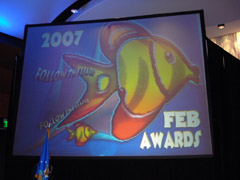 These selections were made by a blue ribbon panel of private sector experts: Susan Bradberry, Director of Internal Communications, COX Enterprises, Inc.; Garland Hung, Chairman, State Board of pardons and Paroles; Kevin Madden, Senior Vice President, Externals Affairs AGL Resources, Inc.; Nathaniel Smith, Public Policy manager, Atlanta Neighborhood Development Partnership, Inc.(ANDP); and David Yu, Executive Vice President, Regional Director, SE Region United Commercial Bank.
The program began with a Brunch, a Blue Grass Band - Mountain Fury, the Tony Howard Review Band (which included James Brown's announcer for over 40 yearsand James Brown's original cape), Georgia Institute of Technology Air Force ROTC Presentation of Colors, National Anthem sung by Dominique Slaughter, a HUD Fair Housing and Equal Opportunity employee, and an Invocation by Chaplain (Major) David Pendleton, U.S Air Force Reserve Command. Regional Director Bob Young was the MC for the event. This year's event boasted a record attendance, and the atmosphere was energetic and fun filled and even if you didn't win an award, the food, door prizes, and live music made the occasion, fun and lively.A hard act to follow!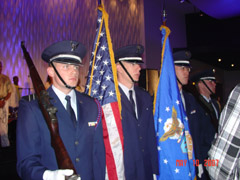 The Awards Program is a part of ongoing activities by federal agencies during Public Service Recognition Week (PSRW), celebrated the first full week of May since 1985. Celebrated this year from May 6-12, 2007, PSRW is a time set aside each year to honor the men and women who serve Americaas federal, state, and local employees.Throughout the nation and around the world, public employees use the week to educate citizens about the many ways in which government serves the people and how government services make life better for all of us.
The Atlanta FEB is the coordinating agency for the 100 plus federal agencies and the more than 46,000 federal employees in the Metropolitan Atlanta area.
HUD Atlanta Regional Office Winners are:
Outstanding Supervisor Award
Sue Barron, Atlanta Regional Office Multifamily Housing, Chief of Asset Management
Outstanding Team Award
James E. Blackmon, Gladys Brown-Tucker, Marquetta J. Bryan, Clara B. Delay, Jud E. McNatt - Litigation and Administrative Law Division, Atlanta Regional Office of Counsel
--------------------------------------------------------------------------------
HUD Atlanta Regional Office Nominees were:
Outstanding Supervisor Award
Valecia Bello, FHEO
Dhoya Bentley, Regional Counsel
Mary Presley,CPD
Outstanding Customer Service
Terri Betts, PIH
Outstanding Partnership Award
Multifamily Affordable Housing Team
Sue Barron, Chief of Asset Management, Multifamily; Paul Deignan, Director, Operations/Support, Atlanta Multifamily HUB; Brenda Mull,
Director, GA Multifamily Project Management; Marcia Ringo, Chief of Production, Multifamily
Outstanding Manager Award
Donzella Hamm, AtlantaEnforcementCenter
William Melvin, AtlantaMultifamily Housing, DirectorPropertyDispositionCenter, Atlanta
Outstanding Professional Award
Howard Miller, Multifamily Housing Development, AtlantaPD Center
Ernest Nichols, Atlanta HOC, REO Branch
Sherran Nutson, Atlanta Fair Housing and Equal Opportunity
Patricia Platt, Atlanta Fair Housing and Equal Opportunity
Rhonda Linquist, Atlanta
Jennifer Harry, Atlanta Regional Counsel
Outstanding Team Award
Atlanta Homeownership Center Program Support Division
Rachel Allen, Ada Caro, Linda Harris, A. Carol Johnson, Conni Perteet, Jason Willey, Shirley Barnes, David Ellison, Sheri Harvey, Gayle
Knowlson, Ruth Trembley, Cassius Butts, Tracy Fields, Carolyn Hogans, Monica McKayhan, LaVeta Ware
Office of Labor Relations
R. Anthony Bacon, Melanie Dalton, Leslie Gibson, Patrick Richards, Steven Bales, Alfreida Doe, Rhonda Lindquist, Debra Tilley, Deborah
Conyers, Jennifer Dupont, Bill Poythress, Ira Turman
Litigation and Administrative Law Division
James Blackmon, Clara Delay, Gladys Brown-Tucker, Jud McNatt, Marquetta Bryan