Some may believe there is a mindset that equal rights, fair housing and civil liberties are disappearing in America. U. S. Department of HUD Fair Housing and Equal Opportunity (FHEO) Assistant Secretary Kim Kendrick emphasized that there is no slowdown of fair housing law enforcement in her office. Enforcement of fair housing law continues as strong as ever with support from local, state and federal officials, legal aid attorneys and HUD housing counselors, as well as from a full array of lenders, realtors, brokers, landlords, and others who incessantly push to enforce it.

Staffed by Nashville Operations Analyst Terry Livingston, the HUD Display offered a full array of materials related to fair housing, predatory lending, discrimination and provided fair housing posters in English, Arabic, Russian, Spanish and Vietnamese.
These groups among others met on April 27, 2007 in Nashville, Tennessee to hear Ms. Kendrick and distinguished Tennesseans from the business, public, private and non-profit sectors promote equal housing opportunity and fair housing, but to also discuss and crush accusations, allegations and misconceptions put forth by others less informed that there is little or no enforcement of fair housing law, and that criminal penalties rarely occur.
If people don't believe fair housing law is enforced, it is due to a lack of knowledge about who to contact or what to do, or even to know when there is a legitimate discrimination concern. HUD and the Office of FHEO provide commercials on radio, TV and the Internet to enlighten others on fair housing law by providing examples of clear-cut discrimination against included groups covered by the law. Housing discrimination based on race, color, national origin, religion, sex, family status, or disability is illegal by federal law. Anyone can read the latest news on FHEO's Library website and "News Archives" about enforcement actions, news releases and fair housing information. There is enforcement every day.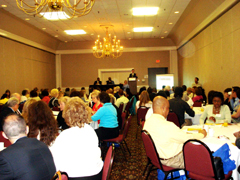 Leaders discuss important issues at the annual Tennessee Fair Housing Matters Conference held in Nashvillewhere some 150 persons attended.
Atlanta Region IV FHEO Director, James Sutton and Nashville HUD Field Office Director, William Dirl introduced and accompanied Ms. Kendrick as she networked with others at the Conference. The Tennessee Fair Housing Matters Conference is co-sponsored by many agencies involved with enforcement of fair housing principles on a daily basis such as the State of Tennessee's Human Rights Commission, Housing Development Agency, and Department of Economic and Community Development, the City of Nashville's Metropolitan Human Relations Commission and Metropolitan Development and Housing Agency, the City of Murfreesboro, the Tennessee Council on Developmental Disabilities and the Tennessee Fair Housing Council, as well as numerous legal assistance agencies. These agencies are on the front lines helping others to mediate discrimination issues everyday.
One of HUD's priorities is housing for persons with disabilities and to recognize that those who are disabled are covered under the Fair Housing Act. What is a disability? Federal laws define a person with a disability as "any person who has a physical or mental impairment that substantially limits one or more major life activities; has a record of such impairment; or is regarded as having such an impairment." There are several programs HUD provides to assist and house the disabled, including rental programs, counseling programs, and grants related to housing, construction, education, and the like. In Tennessee there are several agencies with programs and databases available for the disabled and others to find not only housing, but to search for all kinds of services (www.211tn.org/).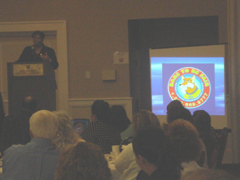 FHEO Assistant Secretary Kim Kendrick discusses FHEO's new Fair Housing Mascot, Franklin the Fox!
If one takes a minute to determine why citizens need protection against housing discrimination, just read the daily newspaper. It's all related to other issues that deserve attention. There are laws against violations of the Real Estate Settlement Procedures Act (RESPA) to protect borrowers during a mortgage transaction. RESPA requires that consumers receive disclosures at various times in the transaction and outlaws kickbacks that increase the cost of settlement services. There are laws against predatory lending activities, as well. These are laws that tie into other major areas of protection to many subgroups - laws enforced by many different federal or state agencies. Obtaining equal opportunity and fair housing is just one of the many important HUD Initiatives one may use at one time or another. Many will utilize its protection under the law. After all, it's not an option - it's the law, and it is enforceable.