The Milwaukee Federal Employee Diversity Committee celebrated Asian Pacific American (APA) Heritage Month at the Federal Courthouse on May 23, 2007. The program featured food, entertainment, and an educational presentation by Dr. David Buck, Emeritus Professor of Chinese History at the University of Wisconsin-Milwaukee (UWM).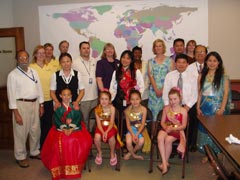 Left to right in the photo: Sing Ahuja (Bureau of Land Management), Kim Youngblood and Ann Mackiewicz (Federal Family Credit Union), Jeff Claassen (General Services Administration), Mia Schiattone (Forest Service), Miguel Rios (Postal Service), Barbara Matt (HUD), Fay Teng (Forest Service), Sheila Ashley (HUD), Ann Ball (Dept. of Justice), Ronnie Yimsut (Forest Service), Lisa Cichocki (US Probation), Conrado Almario and Josiah Kim (Forest Service). In front: Thai Dancers Amber, Katie, Tiara, Kirsten, and (far right) Thiphawan Perkins, Thai American Association of Milwaukee)
Dr. Buck has been actively engaged in Asian studies since he studied at the University of Rangoon in 1956. He has published extensively on Chinese urban history. He lived and worked in China, Taiwan, Japan, and Europe during his teaching career. At UWM, he served as Chair of the Department of History and Director of the Institute of World Affairs. He retired from UWM in 2002, after 33 years of teaching, and remains active writing and leading travel groups to Asia.
Thiphawan Perkins, who has been in the United States since 1975, is an original member of a local Thai dance group that provided entertainment for the celebration. The dance group has performed in a variety of settings, including the International Holiday Folk Fair and Asian Moon Festival, and at numerous functions in Milwaukee, as well as in Chicago where they danced for the Thai Ambassador.
A "We Care" banner honoring those who lost their lives in the Virginia Tech tragedy was designed by Andrea Payne of the US Forest Service. Attendees at the APA program signed the banner extending best wishes for healing as the families of the victims embrace the memories of their lost loved ones. Approximately $400 in donations collected at the event will be mailed along with the "We Care" banner to the Virginia Technical Institute.

Thai Dancers at Milwaukee Asian Pacific American Celebration.
The Asian Pacific American Celebration is an example of the educational and compassionate collaboration of the Milwaukee Federal Employee Diversity Committee (FEDC) as it shares information and resources and encourages the appreciation of diversity. The FEDC is comprised of employees of approximately 20 federal departments and organizations located throughout the metropolitan Milwaukee area. The group was originally formed to coordinate and implement educational programs and ethnic observances and holidays that are recognized on the federal calendar. The group has expanded its mission to respond to national disasters and tragedies, including fund-raisers held for victims of the Asian Tsunami and the Katrina Hurricane disasters.