In early spring 2007, droves of HUD employees volunteered to remodel a Habitat for Humanity (www.habitat.org/) home in the Boulevard Park area of Seattle, Washington.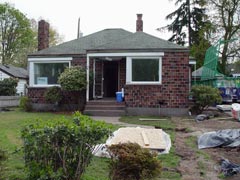 Habitat for Humanity home.
The house is a brick, late 1930's era home with a large, fenced backyard, a beautiful blossoming cherry tree, and a small detached garage. In 2006, HUD sold this house to King County, Washington, for one dollar, under HUD's Dollar Homes initiative. The County in turn sold the house to Habitat for Humanity. The new homeowners will own the home, but the title to the land will be held by the Homestead Community Land Trust. By holding the land in trust, this house will remain affordable for the long term.
Under the Habitat program, a family contributes "sweat equity", instead of money, to help purchase a home. This means the family members put in hundreds of hours working to build or renovate the property. This house had been empty for a long time, and needed a lot work. The Habitat team gutted the house, totally rebuilding the interior, and doing much-needed landscaping on the property, including rebuilding the fence.
The first day the HUD team was on the job, they had a beautiful, sunny day to work outside. One person was assigned the difficult job of scraping the kitchen ceiling. The rest of the HUD team worked outside, taking down the old fence, pulling out nails and repainting, and getting the yard ready for sod.
The second day, a different group of HUD employees cleaned up the original wood floors so they could be refinished. They also worked to rebuild the fence, installed siding on the back of the house, and built the forms so another team could pour concrete for the front sidewalk.
There were a total of four HUD teams (over two dozen employees) who volunteered on this project. At the end of their Habitat day, they reported that they had learned a thing or two (hammering a nail takes more coordination that one might think!), felt like they had accomplished something worthwhile, and appreciated the opportunity to work outdoors for a good cause.