HUD funding and "sweat equity" help build 41 homes for low-income families.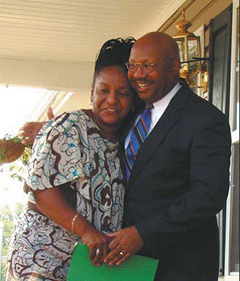 Joanna White welcomes HUD Secretary Alphonso Jackson to her new home.
U.S. Housing and Urban Development Secretary Alphonso Jackson joined Knoxville Mayor Bill Haslam for a tour of October Woods subdivison off Rutledge Pike on Wednesday, June 27. The subdivision was constructed by Habitat for Humanity and funded through HUD. Through its Self-Help Homeownership Opportunity Program (SHOP), HUD has helped make October Woods home to 41 low-income families in the community.
"HUD and Habitat have always been strong partners- we give them dollars and they make miracles," said Jackson. "Nearly $697,000 in Self Help Homeownership Opportunity Program funds were provided for infrastructure and land to create this neighborhood. It was money well spent."
While touring October Woods, Jackson visited the home of resident JoAnna White, who was in the Habitat program for two years before the completion of her home. Ms. White earned over 500 "sweat equity" hours by attending a weekly budget class and a variety of other housing counseling classes. Her house was one of seven built recently in a Habitat for Humanity Blitz Build. Joanna White couldn't be more proud to have a home of her own. White put in her 500 hours of "sweat equity" and completed nearly two years of budget counseling to qualify for her home. Joanna said, "I love being able to shop for my own home, there is nothing like it." Secretary Alphonso Jackson was one of the first to tour her home and when he stepped on the porch she said, "Welcome to MY home." It was a truly moving moment.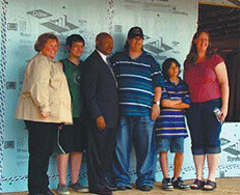 Kelle Shultz, Executive Director of Habitat for Humanity, David Donton, HUD Secretary Alphonso Jackson, Shane Kitts, Dustin Donton and Becky Donton standing in front of the Habitat house under construction for the Donton/Kitts family.
While Joanna's house is complete Habitat is still in the process of building another home across the way. Officials who were on hand also got a chance to meet the family working toward becoming homeowners of their own.
HUD Secretary Jackson, Mayor Bill Haslam, Knox County's Chief of staff Mike Arms, Senator Tim Burchette and the Donton-Kitts family came forward to put their signatures on the home under construction. Secretary Jackson wrote a blessing on the house for the family. Grandmother Delores Lundy said, "I am so proud to be here for this, I am so proud of them, there is no limit to what my grandsons can do now. I'm just the mamaw."
David & Dustin Donton are brothers who will have their own rooms for the first time in their lives. David is 13 and wants to be a scientific engineer; Dustin is 11 and wants to be a veterinarian. David said, "All of the public officials here make me feel like a celebrity." Shane Kitts and Becky Donton still have several hot Saturdays of "sweat equity" to put into their new home, but feel every drop is well worth it".
Kelle Shultz, Executive Director of Habitat for Humanity said, "We are honored to host Secretary Jackson at this commemoration of National Homeownership Month." "There is no question that HUD is a leader in opening doors to decent and affordable housing opportunities for citizens in Knoxville and all across the country. More than 10,400 Habitat for Humanity families have been able to purchase homes as a result of the SHOP program" said Liz Blake, senior vice president of advocacy, government affairs and general counsel for Habitat for Humanity International.
SHOP grants are provided to national and regional nonprofit organizations, like Habitat that have experience in providing self-help housing. These funds are used to purchase land and install or improve infrastructure, which together may not exceed an average investment of $15,000 per dwelling.
Homebuyers contribute a minimum of 100 hours of sweat equity on the construction of their homes and/or the homes of other homebuyers participating in the local self-help housing program. Self-help housing or sweat equity involves the homebuyer's participation in the construction of the housing, which can include, but is not limited to, assisting in the painting, carpentry, trim work, drywall, roofing and siding for the housing.