Thursday, July 19 was proclaimed as Don Alexander day by the City of Crossville and Mr. Alexander was recognized by several organizations for his many years of effort in affordable housing.
If one word summed up the numerous comments praising Don Alexander's term as executive director of the Crossville Housing Authority, that word was his "impact."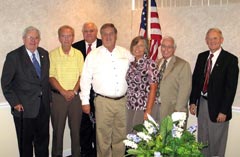 (From left to right), Bob Mitchell, CHA Board Chairman; Earl Dean, Crossville City Council; Mark Brezina, Knoxville HUD Field Office Director; Don Alexander, CHA Executive Director; Pam Johnson, Chief Operations Officer of FAHE (Federation of Appalachian Housing Enterprises); Charlie Barnett; Nashville HUD Program Center Coordinator; and John Robbins, Field Representative for TN Fourth District US Congressman Lincoln Davis.
City Councilman Earl Dean presented the proclamation declaring the day as Don Alexander Day on behalf of Crossville Mayor J. H. Graham who was ill. The proclamation highlighted Alexander's proactive approach to creating programs to help families achieve homeownership and stability along with his use of grant and loan programs as well as partnerships. He was also recognized for his work with Habitat for Humanity, the Tennessee Association of Housing and Redevelopment Authorities, the Crossville/Cumberland county Housing Task Force and the Tennessee Statewide Affordable Housing Coalition.
Councilman Dean commented, "(Don) is a man hard to keep up with."
Bob Mitchell, Chairman of the CHA Board acted as maser of ceremonies at the surprise lunch in Alexander's honor. Mitchell said when he joined the CHA Board before Alexander's tenure, there were only three employees. Currently, CHA employs 38.
Director of the Department of Housing and Urban Development (HUD) Knoxville Field Office Mark Brezina presented an award recognizing Alexander for his work with the programs of HUD. Brezina said that Alexander had an impact on his community and compared him to Dr May Wharton whose autobiography he had recently read.
"He has done so many things he didn't have to do and he still would have been a successful housing authority director," remarked Brezina. "Don has provided joyful service to literally thousands people like the Doctor Woman of the Cumberlands did who said in her book that she found her joy in service to earlier generations of the area."
Another award was presented by Charlie Barnett, the Program Center Coordinator of the Nashville HUD office for providing Section 8 homeownership assistance to 27 families.
Barnett also talked about Alexander's impact on helping low and moderate income families working toward homeownership. Barnett added, "You served not just HUD programs, but innovated and reached out to other partners to help the clients you serve. It takes vision by Don and the Board along with the dedicated staff and the cooperation of local officials and partners to make these things happen."
Mr. Alexander was also recognized by the US Department of Agriculture Rural Development. Don Harris, Housing Programs Director described Alexander as. "a true visionary who has made an impact on the community and the state." Harris added that Alexander makes the most out of whatever he takes on and does and does it right.
The Federation of Appalachian Housing Enterprise is a lesser known organization based in Berea, Kentucky that works to help low income housing and homeownership in several states. Chief Operating Officer Pam Johnson said, "Don is not afraid to step out for all people. He is not afraid to be the voice of things that need to be said.
Alexander, who was on vacation the week of the recognition event, was asked to come in for what he was told was to be a brief CHA board meeting instead, he found he was the guest of honor for the recognition lunch. Alexander told those gathered that he was very surprised by the event and praised all the people and agencies he works with thanking them for their support over the years.