Like a needle in a haystack, every so often there's a nugget pure as gold to be found in a pile of junk mail.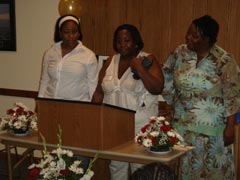 Lisa Brown at podium.
Just ask Lisa Brown of Dover, Delaware. A year or so ago she returned from her mailbox with the usual pile of bills, supermarket circulars and "get-rich-quick" offers that, in most American households, lay unopened on the kitchen table until a day or two later they're tossed, also unopened, into the trash.
But this day a letter from the Dover Housing Authority in Delaware caught her eye. Expecting not much of anything and certainly no good news, she opened it anyway. Much to her surprise, it was a letter asking her how the Dover Authority could help her become a homeowner. Bingo!
Be assured, it didn't take a second or third letter from the Authority to get Ms. Brown's attention. In fact, before she knew it, she was attending "how to buy a home" sessions offered by NCALL, a HUD-approved housing counseling agency that serves the State of Delaware. And within months, she'd become the homeowner she'd doubted, but the letter had told her she could be.
In doing so, she also became something else - the 6,000th person that NCALL's housing counseling programs has helped to become a homeowner. Yes, 6,000!
Those 6,000 NCALL homeowners, obviously, have helped themselves by investing in and owning a piece of the American Dream. But they've also helped their neighborhoods, their communities and their state.
In fact, NCALL reports, those 6,000 homebuyers represent some $585 million in total mortgages and those mortgages, in turn, have generated some $4 billion in economic activity.
"HUD housing counseling agencies may be one of the best returns you can get on Federal spending," said HUD Wilmington Field Office Director Diane Lello. "Counseling agencies like NCALL get modest HUD grants, but grants generate huge numbers. Just imagine. In 30 years, NCALL has helped 6,000 people obtain more than half-a-billion dollars in mortgages and generate more than $4 billion in economic activity. But even better than the numbers are the smiles on the faces of people like Lisa Brown. That's the biggest bang we get from the bucks Congress appropriates for housing counseling."
HUD's nationwide network of more than 500 HUD-approved housing counseling provides assistance to prospective homebuyers, homeowners and renters at no cost. For a directory of HUD-approved housing counseling agencies, visit www.hud.gov
# # #