FY 2007 Continuum of Care
Geocodes and Preliminary Pro Rata Need by State
The links below lead to spreadsheets that display the six-digit geographic code (Geocode) and the preliminary "pro rata need" amount for metropolitan cities and all counties in the United States. The geographic code and name of all juridictions participating in the Continuum of Care must be listed in the Exhibit 1 Part IB: CoC Geography Chart in order for the CoC to obtain that pro rata need. The initial pro rata need amount is the dollar expression of relative homeless assistance need assigned to a community or group of communities using U.S. Census Bureau data. These amounts are used in scoring the "need" rating factor within the Continuum of Care competition.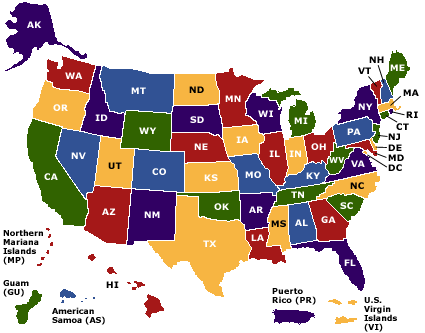 Click on a state or a link below to view the contact information.
Whole Country Spreadsheet
Content Archived: December 6, 2010