Grand Rapids, Michigan. Michigan. The Families in Transition Program (FIT) in Grand Rapids, Michigan, helps move high-risk families with children toward stability, self-sufficiency and permanent housing. Scattered-site housing in neighborhoods throughout the city, coupled with the appropriate supportive services, attracts the participation of homeless families who are reluctant to join a structured social services program or who have been prohibited from joining because of factors such as erratic rental histories, substance abuse or poor credit standing.
To date, 90 high-risk households with 215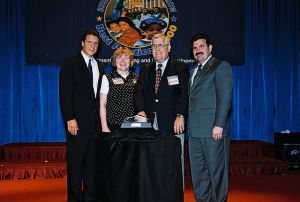 Gail Douglas and Ron Eberhardt receiving Best of the Best award from Secretary Cuomo (l) and Deputy Secretary Ramirez (r)
family members have entered the program and receive housing and supportive services. Of the 67 families who have graduated from the program since its beginning three years ago, 52 families have found permanent housing. Twenty-five of the 67 families leaving the program are living in their own unsubsidized permanent housing, and 9 families are living in their own homes with the help of Section 8 assistance.
Supportive services during the 24-month program include case management, employment training and placement, transportation, substance abuse treatment and specialized counseling for abused women and children. Because of the lack of affordable public transportation in the Grand Rapids area, Community Rebuilders, the grantee as well as the sponsor for this project, has an automobile leasing and rental program to help participants during the 24 months of the program. Automobiles, serviced by volunteer mechanics, are available for lease to participants who have demonstrated responsible behavior, are employed and are insurable.
The beneficiaries of the program are homeless families with children, the majority of whom are female-headed households. Some of the families are victims of domestic violence, and many are trapped in alcohol or drug addiction. The FIT program fills a need for transitional housing for intact and large families. The only other programs that serve intact families are emergency shelters. FIT also fills a need for housing for the families that other programs refuse to accept because they have too many problems. During the first 32 months of operation, the FIT program received referrals for 446 families.

Contact: Ron Eberhardt, Phone: (616) 458-5102
Tracking Number: 1957
Winning Category: Geographic