Portland, Oregon. A voluntary forum of Metro Portland entitlement communities, Public Housing Authorities, State of Oregon Housing and Community Services, Metro government, and HUD program managers and Community Builders has emerged as a unique metropolitan-area housing and community development partnership. The forum crosses city, county, and state lines to examine the comprehensive housing needs of the whole Metro Portland region, including neighboring Clark County and the City of Vancouver in Washington State.
The group operates through a series of quarterly meetings at rotating locations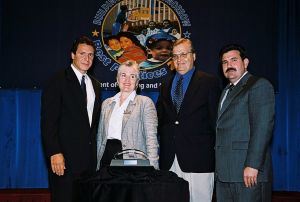 Cathy Buggs (lc) and Tom Cusack (rc) receiving Best of the Best award from Secretary Cuomo (l) and Deputy Secretary Ramirez (r)
moderated by a neutral facilitator (for example, a metro-based nonprofit). Through these meetings, partners have identified a 1-Year Action Plan and an agenda of common regional interest and commitment. This agenda includes a regional analysis of fair housing impediments as well as a standard process for project basing vouchers that could produce $100+ million in housing that is both affordable and available for very low-income renters. Through early accomplishment of concrete goals, partners have established the basis for long term discussions and development of work products that can be shared regionally, and have proven that regional housing and community development cooperation is possible.
Because housing and job markets are metropolitan in nature, but most assistance programs are bound by state, county or local jurisdiction, housing and community development needs and solutions require regional cooperation and sharing of resources and tools. The Metro Portland and Vancouver Bi-State Regional Partnership worked together to identify and overcome regulatory and statutory impediments to regional coordination in the CDBG, HOME, and Continuum of Care programs, and through sharing of standard documents pursued local consideration for a $20 million Enterprise Foundation land acquisition fund. A working group is actively exploring ways to increase the supply of affordable housing in the metro area, and a project-based assistance group is exploring ways of increasing the supply of affordable housing that will remain available for low income renters. In addition, the partnership is planning for a metro-regional continuum of care discussion, publication of unmet housing needs data for the region to be used as a joint resource, and a regional faith-based housing meeting to bring together faith-based housing groups with potential development funders.
By establishing a concrete regional work plan despite the existence of state and local boundaries, the Portland partnership has demonstrated that regional housing and community development cooperation is possible. By developing regional solutions to regional problems, the group is finding ways to ensure equitable and continuous support to residents of the metro Portland region across traditional boundaries.

Contact: Tom Cusack, Phone: (503) 326-2561
Tracking Number: 1261
Winning Category: Program (Community Builder)