HUD's First-Ever
Neighborhood Networks Virtual Conference:
December 4-8, 2000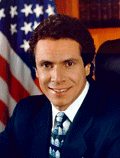 Secretary Andrew Cuomo invites HUD staff, Neighborhood Network centers and community partners to participate in HUD's first-ever Neighborhood Networks Virtual Conference - a web-based technical assistance seminar.
In October, HUD celebrated our first 1,100 community technology centers with the Department's first-ever National Neighborhood Networks Week. Hundreds of centers across the country participated in computer contests, open houses and health fairs to showcase their centers and honor their thousands of staff, volunteers, community partners and non-profit organizations whose partnerships made possible the week's theme, "Conquering the Digital Divide: Delivering the Promise of Technology to America's Families."
Now HUD is preparing another technological first - a Neighborhood Networks Virtual Conference. From December 4-8, 2000, the Department will bring the collective experience and expertise of the Neighborhood Networks Initiative to HUD staff and community tech centers nationwide so that all may receive the benefits of technical assistance needed to help conquer the digital divide.
Neighborhood Networks Virtual Conference participants will be able to view presentations electronically through their office computers or telephone. Groups can "attend" the conference in the comfort and companionship of their office or tech center. Each will receive a dial-in phone number, and passcode, as well as instructions on how to view the PowerPoint presentation online and ask questions of the presenters.
HUD Deputy Secretary Saul Ramirez will kick off the week with a national HUD staff briefing on Monday, December 4 from 2 - 3:30 p.m., EST. A panel of Headquarters Neighborhood Networks team members will discuss opportunities available from our Public Housing, Community Planning and Development, Policy Development and Research, Native American, and Housing programs. Presenters will discuss how to organize what the community wants, which partners can participate and what technologies best suit their needs. Recent successes in Native eDGE and HOPE VI will be presented along with best practices and lessons learned from cities, rural communities and Indian tribes across the country.
The December 5-8th conference sessions will last from 1-2:30pm EST. Presenters will provide technical assistance regarding the following topics: Utilizing Unspent TANF (Welfare-to-Work) Funds, Building Relationships with Partners and Funders, The Community Reinvestment Act and Grant Writing. To register for the virtual conference, please call 1-800-925-8000.
| | | |
| --- | --- | --- |
| | | As part of the recent HUD/NASA Webcast Thelma Woods (left) and Shanice Eaden (right) of Settegast Heights Village Neighborhood Networks Center in Houston, Texas, had hands-on control in a flight simulator at Johnson Space Center. |
"Conquering the Digital Divide:
Delivering the Promise of Technology to America's Families."

President Clinton honored HUD's first-ever National Neighborhood Networks Week October 14-22.

There are over 200 events planned with members of the HUD family - Multifamily Housing, Public and Indian Housing, HOPE VI, Native American Programs and Community Planning and Development - and cover all 50 states.

State by state photo gallery of Neighborhood Networks Week 2000 events (no longer available).

Thousands of community partners participated in National Neighborhood Networks Week 2000. One national partner - whose pledge to donate high speed Internet access to HUD centers was announced by Vice President Gore at the June, 2000 White House Community Empowerment Conference -- was NorthPoint Communications. NorthPoint celebrated 5 new partnerships at events during National Neighborhood Networks Week. For pictures and information, click here. (was linked to http://www.northpoint.net/ncci/index.html)

HUD has sponsored centers in every state - literally in every corner of the nation. The Neighborhood Networks initiative has broadened dramatically, responding to residents and communities nationwide. We have more than 1,100 centers with more in the planning stages. For more information, please contact the local HUD office nearest you.

Learn more about HUDís Neighborhood Networks initiative.

Read about HUD's National Private and Public Sector Partners.

Content Archived: January 20, 2009