CDBG Good Stories - Smitherman Village
North Carolina Congressman Robin Hayes knocks over an abandoned house in the first phase of the Smitherman Village Project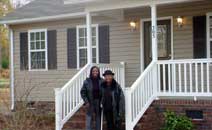 Smitherman Village poster child Easter Butler and her mother Ada at their new home.
Lola Tyson and her son stand on their new front porch in Smitherman Village.
Brain Hall and his two daughers on the front porch of their new home in Smitherman Village.
Smitherman Village
Rent-to-Own Program Offers New Hope for the Residents of Troy.
Grantee
Town of Troy, North Carolina
History
The Town of Troy is like many others throughout the state. Many residents in Troy have the dream of becoming homeowners, but many have been unable to take the necessary steps to homeownership. Leaders in Troy have created a program to help residents fulfill their dreams of purchasing a home.
Mayor Roy Maness, along with others, created a rent-to-own program that is giving residents of Troy hope. The project is being developed in a blighted neighborhood that was once called "mill hill" and is now Smitherman Village. The former neighborhood began to deteriorate once a textile mill closed 40 years ago. A three-block section is being developed during the first phase of the project.
The new neighborhood will be filled with affordable single-family, stick-built homes. 61 year-old, lifelong Troy resident Easter Butler was a member of one of the first families to move into Smitherman Village in December of 2003. Butler previously lived in public housing since 1977. For Butler this opportunity is a dream come true and a gift from God.
In 1995, Butler wrote a letter to Mayor Maness and Troy Housing Authority Executive Director Libby Dawkins about her dream of being able to own a home. At the time town leaders were unable to help Butler. However, the mayor never forgot her letter, and when the Smitherman Village development project began she was the first citizen he thought of.
Results
The rent-to-own program enables participates to rent their new homes for two years. During these two years a home counselor provides families with educational training and counseling on owning a home. These sessions are mandatory for participates and continue throughout the participants mortgage life.
After the homes are sold to the participants, the proceeds will go towards the construction of new houses for the program. This creates a type of "revolving fund" to continue the program with more houses and more participants served. Once more houses have been constructed; a neighborhood association will be formed among the participants.
This development project was funded through a Community Development Block Grant of $600,000 and $458,000 from HUD, $50,000 from the USDA-Rural Development, $60,000 from the Z. Smith Reynolds Foundation and $60,000 for a Powell Bill Contribution. Town officials hope to build six to eight more homes by next December.