Suc-Seeding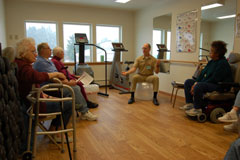 Village members listen to guest speaker.
Ralph Waldo Emerson got it right. From a single acorn a thousand forests can grow.
For proof, visit Klawock, Alaska, an isolated native village of about 900 in southeastern Alaska, some 700 miles to the south of Anchorage and north of Seattle.
A couple of years ago, Klawock's village elders faced a problem critical to the community's long-term viability - how to make sure that in a place so remote an aging population would have access to the supportive services they needed to live independently in the place they called home.
"Move them to Anchorage or to Juneau or to Ketchikan," probably would have seemed the most obvious answer. But it would also be, the elders knew, the least responsive to the needs of residents or the community, requiring that they be torn away from the village in which they'd been born, raised their families and celebrated their culture.
So the elders looked to HUD. With the support of the Tlingit Haida Regional Housing Authority, in 2007 they applied for - and won - a $231,700 Resident Opportunities and Self Sufficiency grant that enabled the Klawock Senior Supportive Housing Center to hire a full-time service coordinator to help residents secure the services they needed.
And they have been prudent stewards of the grant. Instead of seeing how far they could "stretch" or how fast they could go through the $231,700, the elders and residents painstakingly built a consensus about what services of highest priority to them and how to best use the grant as a "seed" to reach out to partners and bring those services to Klawock.
Their approach has paid off. Alaska Legal Services in Ketchikan, for example, regularly visits to help residents sort through legal issues they may be facing. The Southeast Alaska Regional Health Corporation provides on-site health clinics. Teens from Klawock School meet weekly with residents for a "telling our stories" writing workshop. The Cooperative Extension Service of the University of Alaska at Fairbanks offers residents a six-session workshop on living with and managing chronic disease. A Master Gardener program has been launched and neighbors are helping to start - and to tend - a community garden.
"It's a great example of what we call leveraging," said HUD Anchorage's Colleen Bickford. "Thanks to the hard work of folks in Klawock and the generous contributions of their partners, HUD funds have effectively been used as seed money to bring a host of supportive services to Klawock that otherwise might never have been available. As far away as they may be from Anchorage or Seattle, they've worked hard and worked well to be fully-connected to and actively-engaged in the world around them."