Measuring Up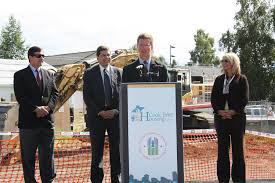 HUD Secretary Donovan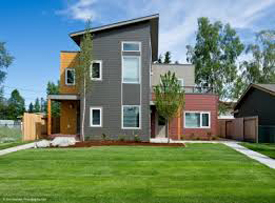 Mountain View home

ANCHORAGE -There's plenty of reason to celebrate these days in the Mountain View, a neighborhood of some 8,700 residents just a few blocks from downtown Anchorage. Ten or fifteen years ago visitors wanted to avoid and residents wanted to leave. Too much crime, too few jobs, too tough a place to raise a family.
Not anymore, thanks to efforts spearheaded by the Cook Inlet Regional Housing Authority. With support from the Anchorage Community Land Trust, the Mountain View Association, the Alaska Housing Finance Corporation, the Municipality of Anchorage and, yes, HUD, it has demonstrated, says HUD Secretary Donovan who toured the neighborhood in 2009, "that a great vision and a lot of elbow grease can work miracles."
Carol Gore, executive director of the Authority, was born in Mountain View. "I have fond memories of growing up in the neighborhood. So I knew what it could be."
Like eliminating more than 130 blighted properties Building almost 300 affordable rental and homeownership units. Cook Inlet Regional Housing Authority "has mastered the formula of providing high quality housing for low- and modest-income individuals and families," says Jewel Jones of the Anchorage Community Land Trust. "To even begin to undertake it requires courage. To actually pull it off takes organizational excellence, superb planning skills, and willingness to work with neighborhood residents and other investors."
But it takes more than housing to make a village like Mountain View. Revitalization efforts have also brought a new library, a credit union, a grocery store and a new school to the neighborhood. "It's gone from a place no one wanted to be," observes HUD Anchorage Field Office Director Colleen Bickford, "to a place people want to call home, a neighborhood of choice."
All told, the Authority has brought more than $80 million in resources into the revitalization effort. "It's a model of the place-based approach," explains HUD Community & Planning Development Director Carma Reed. "A particular community makes use of particular HUD programs and particular HUD resources" - funds from the CDBG program to the Native American Housing & Self Determination Act, HOME to Section 108 loan guarantees, public housing to the Recovery Act - "to address the particular needs and goals of that community."
Mountain View's turnaround has been so successful, in fact, that the American Planning Association of the 2014 HUD Secretary's Award for Opportunity and Excellence that "honors excellence in community planning that has led to measurable benefits." By "any measure," notes HUD Anchorage's Bickford, "the work Cook Inlet, the community and we have done in Mountain View has met that standard."
###