Assembling a Toolbox for
Increasing Homeownership
In Low-Wealth Communities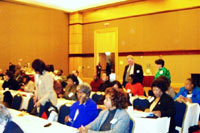 Audience members listen attentively during The Alabama Homeownership Institute training session.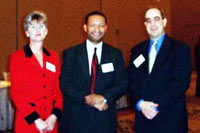 U.S. Representative Artur Davis (D-AL-07); HUD Region IV Director, Brian Noye; and Birmingham Field Office Director, Cindy Yarbrough, participated in The Alabama Homeownership Institute training.
The Community Planning and Development Division of the Birmingham Field Office recently presented a two and one half day workshop titled, The Alabama Homeownership Institute, Assembling a Toolbox for Increasing Homeownership In Low-Wealth Communities. Financed by a Technical Assistance Grant, the Development Training Institute (DTI) and R. J. Stidham & Associates, in conjunction with the Alabama Association of Community Development Corporations (AACDC), conducted the workshop.
The workshop was designed in response to President Bush's announcement of the "American Homeownership Challenge" which set a goal of increasing the number of minority homeowners by at least 5.5 million before the end of the decade. While the State of Alabama ranks high in overall homeownership, rates among low-wealth households, especially in minority communities, lag substantially behind their majority counterparts. The workshop focused on the following primary objectives:
Providing intensive training and tools to public, private, nonprofit, for profit and faith based housing providers to increase their capacity to provide quality homeownership opportunities to minority and low-income persons in Alabama.
Providing opportunities to hear and share experiences and resources from peers, national experts, banking representatives, Federal and State public agency representatives.
Providing information on resources for funding and technical assistance.
Addressing the issues associated with predatory lending.
The workshop was held in Birmingham, Alabama from December 9th through December 11th, 2003, and was attended by 120 persons primarily from Alabama. Attendees from the states of Tennessee, Georgia, Mississippi and Louisiana were also present. The attendees represented a broad cross section of housing providers from, but not limited to, Federal, state and local governments, financial institutions, not for profit developers, for profit developers, community based organizations, CHDO's, PHA's, HBCU's, fair housing centers, faith based organizations, real estate brokers and consultants.
DTI partnered with the Alabama Association of Community Development Corporations, the Hope Unity Fund, AmSouth Bank, Regions Financial Corporation, Freddie Mac, South Trust, and Fannie Mae.
Brian Noyes, Regional Director, Region IV - Atlanta Regional Office represented the Agency in providing opening remarks. Additional remarks were made by Cindy Yarbrough, Director, Birmingham Field Office. Congressman Artur Davis, representing Alabama's 7th Congressional District, gave a moving speech at the luncheon on the first day of the workshop, setting the mood for a very productive and effective workshop.
The items of discussion in the concurrent sessions included Homeownership and Comprehensive Neighborhood Revitalization: Strategic Thinking for Nonprofit Developers; Designing a Successful Homeownership Program: Purchasers, Policies, and Partners; Breaking Down the Barriers: Faith Based Organizations Eliminating the Barriers to Homeownership; Rehab, Reconstruction, or New Construction: Determining the Best Option for Homeownership; Accessing Rural Homeownership Programs; Building Community Through Homeownership; Comprehensive Housing Counseling: Prequalification to Foreclosure Prevention; A Primer on Construction Management; Understanding and Implementing the Homeownership Voucher Program; The ABCs of IDAs; Fundamentals of Residential Lending: Originating, Underwriting, and Closing; Using HOME for Homeownership; Building Organizational Capacity to Administer Homeownership Programs; and Fair Housing and Fair Lending: Combating Predatory Lending, NIMBYism, and Gentrification.
We received very positive feedback from the participants. This workshop was so successful that many participants requested additional technical assistance from the workshop presenters. Mr. Ronnie L. Miller, Executive Director of the AACDC, is planning a six month follow up to this workshop.