YWCA Program Changes Lives as It Changes A Community
The apartments located at the corner of 59th Street North and 1st Avenue North were for a long time a blighting influence in the Woodlawn community of Birmngham, Alabama. Vacant units attracted drug dealers and prostitution, and left the community with a sense of hopelessness. But that was before the YWoodland Neighborhood Revitalization Initiative began. On a recent fall day, over 269 volunteers came together to build a playground in a single day, completing another step in the revitalization effort.
The playground effort was a partnership between the YWoodlawn Initiative of the YWCA of Central Alabama, a non-profit called KaBoom, the Home Depot Foundation, and a host of neighborhood volunteers. KaBoom is a national non-profit organization that has assisted in over 1,500 playground construction projects that pair community leaders with funding partners who share their vision of providing playgrounds for youth across the nation.

Photo of Home Depot employees who volunteered to assist in building the YWoodlawn playground on their off day.

Robert Thompson, Manager, Home Depot Store in Pelham, was one of many Home Depot employees who volunteered to assist in building the YWoodlawn playground on their off day. According to Thompson, Home Depot takes pride in working with programs that impact the lives of women and children, and their efforts in Woodlawn were part of a national partnership between the Home Depot Foundation and KaBoom that has resulted in the creation over 800 playgrounds nationally.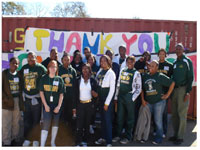 Young volunteers from Woodlawn High School

These young volunteers from Woodlawn High School are part of the army of community volunteers who turned out to help YWoodlawn build their playground. According to Coach Simms, Basketball Coach for Woodlawn Magnet High School, school officials felt it was important for students to experience the opportunity to give back to the community. Woodlawn students helped with painting playground equipment and cleaning up of the construction site.
While the effort to build the playground in a day is impressive, the overall effort to revitalize the community is even more impressive. The YWoodlawn Neighborhood Revitalization Initiative includes an overnight homeless shelter, transitional housing, as well as long term housing. HUD has over $5 million invested in this revitalization including funding to acquire and rehabilitate a 31 unit apartment building, rental assistance funding, and homeless assistance funding.
"We are so proud of the way this project is working out. So often developers promise one thing on the front end, and by the time you get to the finish line you have a completely different product," Birmingham Field Office Director, Cindy Yarbrough says of the initiative. "The YWCA committed to a meaningful revitalization of this community on the front end, and what we see as we near the finish line is a meaningfully revitalized community."
Participants are set up in Step Program, that requires that they achieve certain milestones in order to transition to more permanent housing solutions. They begin in the overnight shelter, and when they have met their goals for that step, which include showing they are free of all substance abuse, and setting up an initial budget, they can qualify for the transitional housing. To go from transitional housing to permanent housing, they have to not only have a budget, but a demonstrated plan for paying off old utilities bills and other financial obligations that can be an obstacle to obtaining and maintaining permanent housing.
Sharon Huntley will soon be a graduate of the programs sponsored by YWoodlawn. A year ago she, her husband and four sons found themselves homeless with no where to turn for help. A personal illness had rendered her unable to work, and her husband's work hours had been reduced to part time as a result of cutbacks at his place of employment. Her search for help led her to the YWoodlawn Initiative. Ms. Huntley says that Counselors at the Center helped her to apply for and get approved for SS Disability payments, as well as helped her husband to find full time employment. After spending months working through developing a family budget and paying off old utility bills, the Huntley family was notified recently by the Director of the YWoodlawn Initiative that they have qualified for a lease-purchase program, that will have them moving into a remodeled three bedroom, two bathroom home in December, under a lease purchase agreement. It will be the first home the Huntley family will ever have the chance to own.

Sharon Huntley volunteers at registration table

Sharon Huntley volunteers at registration table where participants signed up to help build a playground in one day as part of the YWoodlawn Neighborhood Revitalization Initiative. Ms. Huntley and her family came to the YWoodlawn Initiative one year ago seeking emergency homeless assistance, and in the coming weeks they will be moving into their own home through a lease purchase program sponsored by the YWoodlawn Initiative.
###