Birmingham HUD Office Participates In Homeownership Center Opening

Birmingham Field Office Director, Michael German (In front of ribbon) joins NHS Executive Director John Colon and others in ribbon cutting ceremony for grand opening of Neighborworks Homeownership Center. German commented regarding the grand opening, "That it is partnerships like this that help HUD to fulfill its critical housing mission."
On December 8, 2011, Birmingham Field Office Director, Michael German, joins Neighborworks Homeownership Center Director, John Colin in the grand opening of the Neighborworks Homeownership Center in Birmingham, Alabama. Neighborworks is a national non-profit that creates opportunities for people to improve their lives and strengthen their communities by providing access to homeownership and to safe and affordable rental housing. One of the goals of the organization is to partner with local organizations with similar goals and to help these local organizations expand the scope of their services through administrative and financial support.
In Birmingham the organization partnered with Neighborhood Housing Services(NHS), a local non-profit and HUD certified Housing Counseling Agency. John Colon, Executive Director of NHS has long been recognized for his leadership in local efforts to ensure there are viable affordable housing opportunities, as well as his efforts to use financial literacy as a tool to expand homeownership opportunities for low to moderate income families. With the help of Neighborworks support NHS renovated their existing space and revamped both their financial education offerings as well as their foreclosure prevention services.
In the past year NHS provided foreclosure prevention services to 1300 clients with an 85% success rate. That means 1,105 homeowners in this area that avoided the scourge of foreclosure. They provided financial education programs for first time homebuyers for 575 clients, 60 of which became homeowners. They also served approximately 60 families with homeless prevention services through HUD Homelessness Prevention and Rapid Rehousing Program. Their hope is to improve on this record.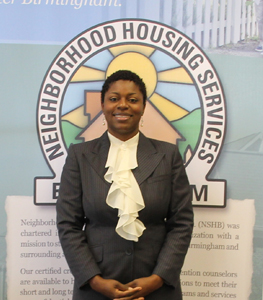 Ms. Angia Coleman, a client of NHS who recently became a first time homebuyer provided the inspirational moment for the Grand Opening when she told of how she was homeless when she first came to NHS looking for help nearly two years ago. A divorced, single parent, Ms. Coleman said of the help she received simply that, "It changed my life, it changed my children lives, and for that I will forever be grateful."

The highlight of the grand opening for most was the testimonial of a client of the Center. Angia Coleman came to the Center almost two years ago as a homeless, single parent of two seeking housing assistance. She noted in her testimonial that at that time all she was looking to do was to get a roof over her children's head, she had no idea that homeownership would ever be a possibility for her. But John Colon and his staff took her hand and started her down a path. At times the path was hard, and there were times she thought it was all too much for her, but said that not only did the staff provide her with information, but that when needed they also provided words of encouragement as well as a comforting hug.
Hollis Wormsby, Field Office Director's Liaison, in the Birmingham HUD Office served as a keynote speaker for the event. In his remarks he talked about the role that housing counselors play in helping to impact the way financial institutions see individuals and their homes in times of financial distress. He went on to recognize them for being an ally in the darkest of times and for being an organization with the compassion to truly listen to the stories of families in financial distress, the experience to know the tools to suggest and with a commitment to making financial institutions change their vision of them and their homes.
###