HUD Relief Funding $16.6 million available for Tuscaloosa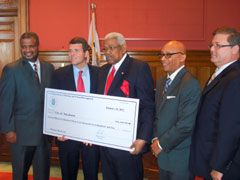 Left to right: HUD Regional Administrator, Ed Jennings Jr., Tuscaloosa Mayor, Walt Maddox (left center), and Tuscaloosa City Council President, Harrison Taylor and Birmingham Field Office Director, Michael German.

U.S. Department of Housing and Urban Development (HUD) announced January 24, 2012 at Tuscaloosa City Hall that $16,634,702 in federal funding was set aside for the city for disaster relief through the Community Development Block Grant Program.
HUD Southeast Regional Administrator Ed Jennings Jr. said the grant appropriation process that began six months ago yielded $400 million in federal funds. From that, Alabama will receive $55 million for recovery, including the $16.6 million for Tuscaloosa, $7.8 million for Jefferson County and $6.4 million for Birmingham.
"I know the mayor is ecstatic today because of his great leadership, because he leads a community who when challenged, when being surrounded by all sides, says 'What are we going to do? We are going to lead. We are going to lead and serve each other one by one,'" Jennings said.
Jennings said a combined effort of local, state and federal governments, businesses, churches and citizens allowed Tuscaloosa to rise from the April storms and praised the Tuscaloosa Forward strategic rebuilding plan, which he called a "new generation mentality of what this community can be going forward."
Tuscaloosa Mayor Walt Maddox credited HUD's timeliness and effectiveness in working with the city on the block grant as well as recovery efforts in the Rosedale housing community.
"It is indeed on a day like this really gratifying to have moments where we begin to turn the page on what happened to us more than 270 days ago," Maddox said.
Maddox also thanked the Administration, Tuscaloosa's congressional delegation and U.S. Housing and Urban Development Secretary Shaun Donovan.
City staff and HUD will travel to Texas in a month to be trained on how to administer the grant.
###