One Pratt Park - A Game Changer for a Resilient Community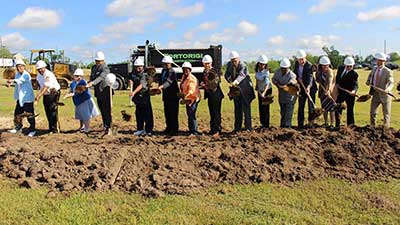 Birmingham Field Office Director Patricia A. Hoban-Moore (third from left) joins Birmingham Mayor William A. Bell, Councilman Marcus Lundy and others at One Pratt Park groundbreaking ceremony.


Six years after devastating tornadoes ravished their city, Pratt City residents are closer to realizing what they would like to have in their community when they go out for leisure activities. After years of resident engagement and planning activities, they share a vision for an amphitheater for outdoor concerts and events, a multiuse community center, a lookout tower with a view of the City, a large playground for children, and a large picnicking area for families.
With the recent groundbreaking ceremony, One Pratt Park is finally coming to fruition. The revitalization project is funded with $6.5 million of CDBG Disaster Recovery money.
Community leaders called the planned park a game changer for the entire community and are hopeful it will draw tourism from across the region. Residents recognized Mayor William Bell for keeping his promise to listen to them and bring the kind of improvement to Pratt City that residents wanted. The final rendition of the planned project was unveiled in July of 2016 and can be seen in this video (https://www.youtube.com/watch?v=DYj1TTVxPEc&feature=youtu.be).
###