Strawberry Fields: A Juicy New Addition
The Arkansas State University ROTC performed the Presentation of Colors while the Hillcrest High School Choir entertained guests.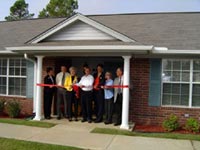 The Mayor (third from left) prepares to cut the ribbon.

One of Arkansas' newest, affordable housing communities is in none other than Strawberry, Arkansas, the perfect little town! Mayor Opal Mullen presided over the grand opening ceremonies, saying it has always been her dream to bring affordable housing to this small community.

The town numbers less than 300 residents, but the new 14-unit apartment complex is renting up fast. Strawberry Fields boasts affordable rent and a convenient location with all the advantages of city living combined with the peaceful quiet of a small, rural community. The units are specially designed with the elderly in mind, as they are efficient and easy to maintain.

HUD's Little Rock Multifamily Program Center endorsed a construction note for $798,800, and awarded a Project Rental Assistance Contract in the amount of $33,900 annually.

Nearly 100 people attended the grand opening, including the project's development team, management agent, local residents, Lawrence County officials, area mayors, and HUD staff.

Congratulations to the project sponsor, the White River Regional Housing Authority, and all of the other community partners who helped make this dream a reality.