"We Need More Melanies!"
Melanie Smith, a single mother of two, recently moved into her new Self-Help home and made history at Universal Housing Development Corporation (UHDC).

Melanie was UHDC's first Housing Choice Voucher (HCV) to Homeownership participant. She had been receiving rental assistance from HUD through UHDC since 2002 and had been working on her Family Self-Sufficiency Goals since 2006.

Melanie and her children moved into this three-bedroom brick home last May.
Family Self-Sufficiency works with HCV residents to help set goals and give them the training they need to succeed in reaching those goals. Melanie completed classes in credit, budgeting, and homeownership, as well as working with UHDC and FSS counselors on a regular basis.
UHDC has been a HUD-approved housing counseling agency since 1977 and provides pre- and post-occupancy counseling for renters and homeowners; reverse mortgage counseling; budget and debt management; mortgage foreclosure prevention counseling and first-time homebuyer classes through funding from HUD. UHDC housing counselors help more than 450 clients every year to meet their housing and financial needs.
When Universal Housing was awarded five slots for HCV to Homeownership, Melanie Smith met all the criteria for homeownership. She was working full-time and going to college at the time.
"We were really glad she wanted to do it" said Judy Benge, UHDC HCV Program Director, "She's just great."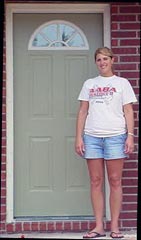 New homeowners like Melanie Smith contribute at least 65% of the labor toward the completion of their own home.
While she was helping to build her own home through Universal's Self-Help Housing Program, Melanie kept up with her studies and received her degree from Arkansas Tech University. Self-helpers contribute at least 65% of the labor tasks toward the completion of their own home and are able to build up "sweat equity" by the savings from their own labor. Rural Development finances these homes and ensures that they remain affordable through a payment structure based on income.
With all that she had going on at the time, it would have been understandable if Melanie had taken a little longer on her self-help tasks, but that wasn't the case at all.
"I wish all my self-helpers were like her - we need more Melanie's!" said Mark Dial, Carpenter Supervisor.
Melanie was always on time and gave every task her best effort. HCV funds will go toward her house payments while she is finishing her Family Self-Sufficiency goals. Melanie has made such an impression on Universal Housing that they recently nominated her to serve on the Pope County Public Facilities Board as a resident member.
Melanie and her children, Julia, 13, and Justin, 10, moved into their three-bedroom brick home at the end of May and took part in NeighborWorks® America Homeownership Week in June with Universal Housing. Helping Melanie become a homeowner took the four-way partnership of HUD, Rural Development, UHDC and Melanie.
Everyone at Universal Housing is proud of their part in helping Melanie get her own piece of the American Dream. They agree with Mark - "We need more Melanie's!"