Springwood Retirement Community To Add 53 New Units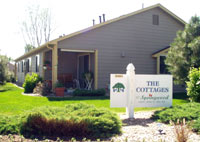 Cottages at Springwood
Springwood apartments
Springwood Retirement Community in Arvada, Colorado is one of many retirement centers insured in 1986 under HUD's now defunct coinsurance program. Because of its progressive design and excellent management it also was one of the few retirement centers developed under the coinsurance program that proved to be successful from the start. The Alzheimer care, and cottage facilities were originally financed conventionally. The developers designed a variety of progressive living facilities for the existing community of independent, active seniors aged 65 and over. These seniors reside in 126-congregate independent living apartments in a single three-story building, 16-cottages in eight duplex buildings, a 66-unit assisted living center and a 28-bed secured dementia facility. The cottages are quaint and surrounded by lovely flower gardens that continue throughout the property.
This well managed retirement community has done so well it has developed a
"waiting list" of clients eager to move into this community. To meet this
demand for the units, a second phase of construction will add 53 units to
the existing Springwood Retirement Campus.
Local services and facilities have also helped keep the residents connected to the community that surrounds this thriving retirement campus. There is a North Jeffco Park and Recreation district, the Westwood Ranch Golf Course; less than three miles away, and a host of medical facilities nearby. There is also convenience shopping within two blocks of this community.
This project is now insured under the Section 223(a)(7), of the National Housing Act, (NHA). The new senior apartments will be insured under the Section 221(d) (4), (NHA) program.
Content Archived: April 5, 2011