Trip to Kit Carson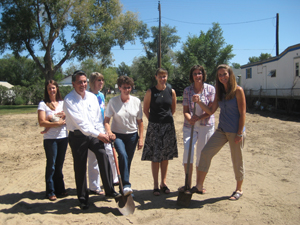 Left to Right: Holly Mitchek (holding baby Aubrey Mitchek), Regional Administrator Rick M. Garcia, Karen Wolff, Mayor Sharon Mayhan, Doris Morgan (from the office of Corey Gardner), Marilyn Ward, and Amy Johnson.
The town of Kit Carson represents a story of a rural town being changed by a development and how HUD plays an important role in peoples' lives. Kit Carson was one of six recipients of the main street awards last year. Where, what might seem like a small scale redevelopment was a transformation of a city and of the local peoples' lives.
HUD provided the town with a $1,000,000 grant about one year ago. The grant was directed toward the construction of five new homes that will provide locals with new jobs and new homes that the community has not seen in years.
Electricians, construction workers, and teachers are only a few of the key stakeholders that are being affected and are receiving new jobs by the new development. This particular story shows how HUD goes beyond urban areas and how rural cities need to be recognized for their efforts in improving their communities.
Regional Administrator Rick Garcia stated, "Rural areas are a part of our American culture, and it is a challenge to keep them vibrant." Kit Carson is a representation of where we are bringing the country's resources and how small communities need to be brought forth and recognized just as much as larger ones. The small town of 240 is beyond excited about this project and how it is making such a huge impact on their home's character.
Content Archived: October 24, 2013