Colorado Disaster: HUD Staff Assists Survivors
During the second week of September, 2013, heavy rainfall along Colorado's Front Range from Colorado Springs north to Fort Collins caused catastrophic flooding. As a result of these rains, President Obama issued a Presidential Disaster Declaration for the flooded areas.
The Federal Emergency Management Agency (FEMA) requested HUD assistance, through a Mission Assignment, to staff Disaster Recovery Centers (DRC) to assist disaster survivors.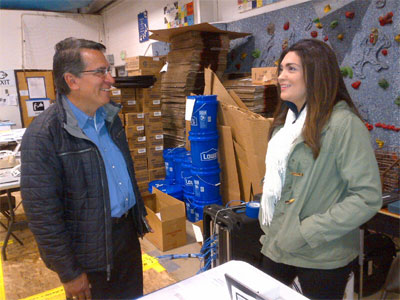 Regional Administrator Garcia visits with
Mercedes Solis-Maestas at the Lyons Disaster Recovery Center.
Ten staff from Region VIII deployed to assist with this mission. Over the course of three weeks HUD staff assisted over 425 disaster survivors by helping them find housing, provide mortgage information and provide general housing direction.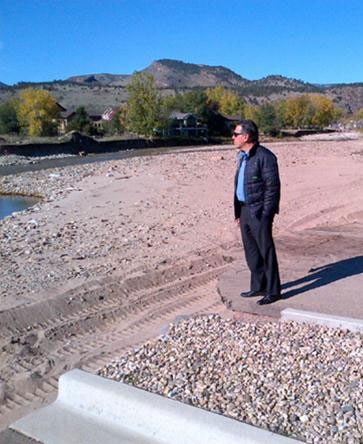 Regional Administrator Garcia surveys flood damage in Lyons. In front
of him used to be a road and bridge that were destroyed by flood waters.
Afterwards FEMA complimented HUD staff on assisting disaster victims and helping them understand HUD programs and services. HUD staff was able to interacted with FEMA and other agencies and provide briefings on some of the many services HUD has to offer.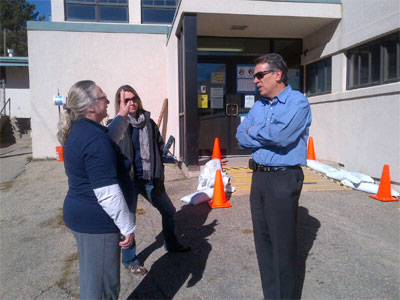 Nina Carter and Christine Baumann visit with Regional Administrator
Garcia at the Nederland Disaster Recovery Center.
The overall experience for HUD staff was positive. "Personally for me this experience has really humbled me and made me appreciate what I have" said Mercedes Solis-Maestas, a HUD employee deployed to help. Other HUD staff echoed those same sentiments. They were proud to help disaster survivors.
The following HUD staff served their deployment assignment at various Disaster Recovery Centers located in areas where there was a great need for assistance to the impacted residents and the Joint Field Office: Christine Baumann, Field Policy and Management (FPM); Katy Burke, Community Planning and development (CPD); Nina Carter (CPD); Phillip McKeough (CPD); Gabe Lopez, Office of General Council; Mercedes Solis-Maestas (Multifamily); Tony Hagerty (Multifamily); Debbie Byers (Single Family); Kelly Jorgensen (FPM); and Roger Jacobs (FPM).
Contact the Denver Regional Office.
###