Choice Neighborhoods Planning Grant Helps Light the Way in Sun Valley
On March 5th, as the first rays of sunlight swept across Denver, HUD Rocky Mountain Regional Administrator, Rick M. Garcia met with key members of the Denver Housing Authority (DHA) to discuss their recent Choice Neighborhoods Planning Grant.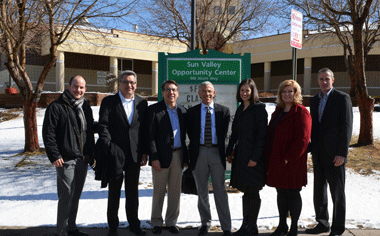 From left to right: HUD Public & Indian Housing Team Coordinator, James Ashford; DHA Executive Director, Ismael Guerrero; HUD Rocky Mountain Regional Administrator, Rick M. Garcia; HUD Public & Indian Housing Supportive Services Specialist, Ron Ashford; Healthy Homes Representative and appointed HUD Liaison on the (DHA) Choice Neighborhoods Planning Grant, Abby Hugill; HUD Public & Indian Housing, Housing Specialist, Belinda Bly; DHA Development Director, Chris Parr.
In November 2013, HUD awarded DHA $500,000 in the aptly named grant. The housing authority was one of nine chosen from 52 applicants around the nation.
Choice Neighborhoods is one of the signature programs of the White House's Promise Zones Initiative. It and focuses on communities of concentrated poverty. The program is designed to target resources to develop comprehensive, community-driven plans to transform public or other HUD-assisted housing and distressed neighborhoods.
DHA has selected the Sun Valley community as the focus of this recent funding. The housing authority and its partners have already demonstrated a commitment to transforming the area in the last two years.

Rendering of Proposed Transit-Oriented Developments in Sun Valley Denver
The 30-acre, 333-unit Sun Valley homes property is comprised of row-type housing from the 1950s and is the most isolated and distressed public housing asset in DHA's 5,000 home portfolio. However, the community is strategically located along Denver's FasTracks West Corridor light rail line. It is bordered by the underutilized Platte River. These elements allow for proximity to downtown and access to jobs, services, amenities, and recreational and educational opportunities.
During a DHA presentation detailing the proposed developments to the area, HUD Rocky Mountain Regional Administrator, Rick M. Garcia said, "It's less about economic competitiveness and more about building 'place' where the people of Sun Valley can thrive." He went on to say, "We know that given the right resources, the community will grow to become a significant contributor to the health and success of the entire city."
With the help of the Choice Neighborhood Planning Grant, Denver's Community Planning and Development (CPD) Office, the Office of Economic Development (OED), Mercy Housing and Denver Public Schools (DPS), DHA plans to shine a light on this community and transform it into a vibrant, successful model of resilience. The future of the once forgotten Sun Valley, is now suddenly, very bright.
Contact Regional Public Affairs Specialist, HUD Region VIII: Charlene Guzman (Charlene.R.Guzman@hud.gov).
###