Seeking Perspective: HUD Officials Take Aerial Tour of Flood-Impacted Communities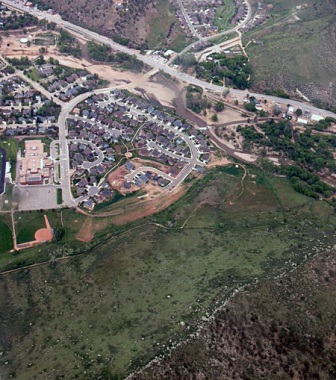 Longmont flood damage aerial view

Recently HUD Region VIII Regional Administrator, Rick Garcia and Deputy Regional Administrator Dan Gomez, convened a meeting between Colorado State representatives and officials from Boulder County and the City of Longmont. The group participated in an aerial tour of Northern Colorado communities impacted by last year's flooding. They discussed plans on how to best utilize the second allocation of Community Development Block Grant - Disaster Recovery (CDBG-DR) funding.
In March, HUD Secretary Shaun Donovan announced an allocation of $199.3 million to help Colorado communities recover from last September's severe storms that produced devastating floods and mudslides. The award brought HUD's combined CDBG-DR investment in Colorado to $262.1 million.
"Flood damage caused by the bulging St. Vrain River was best viewed from the air," said HUD Rocky Mountain Regional Administrator Garcia after surveying the damage. "The river's flood path was indiscriminate. Urban neighborhoods, ranch and farm homes and businesses were all impacted by the rising water."
The residual economic impacts of the devastating flooding are still being felt in many Northern Colorado communities, such as Estes Park, Lyons, and Evans, where tourism is a major component of the local economy. In an effort to support rebuilding efforts in these communities, HUD has recently approved a tourism expenditure waiver to target $500,000 of the original CDBG-DR funding towards housing, infrastructure and economic rehab projects with the goal of reviving tourism in these flood-ravaged counties.
In discussing the future of the flood-impacted communities, Regional Administrator Garcia also said, "Recovery planning is now underway to bolster damaged infrastructure and housing to make these communities more resilient in the face of another natural disaster."
Learn more about the latest recovery efforts in Colorado by visiting Colorado United (https://sites.google.com/a/state.co.us/coloradounited/).
###