The Business of Building!
The Yesenia Davila family joined by Hartford Habitat Family Services Coordinator Steve Zwerling; Geraud Darnis, President of Carrier Corporation, and Millard Fuller, Founder of Habitat for Humanity.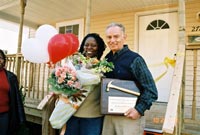 New homeowner Adrienne Dash in front of her new house with house sponsor Robert Francolini, Vice President Residential Services of the Savings Bank of Manchester.
Sponsored by area corporations, Habitat for Humanity recently dedicated six houses, including its 100th, in Hartford's North End. Habitat for Humanity International's founder, Millard Fuller, congratulated the new homeowners and officially welcomed them "home to Hartford".
Sharing in the celebration were corporate house sponsors who not only contributed financially to the development but whose employees also helped build the houses. Sponsors included the Carrier Corporation; GMAC Financial Services and the GM Family; The Stanley Works; Hilb, Rogal and Hobbs; Travelers Foundation; CIGNA Foundation; Savings Bank of Manchester; Fleet Bank, and The Ensworth Charitable Foundation.
The six new single-family homes have made a major impact on neighborhood revitalization efforts in Hartford's North End neighborhood. Built on the site of an abandoned building and vacant lots, the new homes feature creative landscaping and improved streetscapes.
Hartford Area Habitat for Humanity was organized in 1989 to create homeownership opportunities in partnership with low-income families. Approved families contribute at least 150 hours of "sweat equity" to build their homes with Habitat staff and volunteers. Construction materials are donated or purchased with contributed funds. The completed homes are sold via 0% interest mortgages written by Hartford Area Habitat. Payments are recycled to support future homes for other families in need.
If you are interested in learning more about Hartford Area Habitat for Humanity, call (860) 541-2208 x255 or visit the www.hartfordhabitat.org website.