Grant Writing Workshop Sets the Stage
HUD's Hartford Field Office recently conducted a free grant-writing workshop to teach participants how to secure federal funding. Thirty-two people attended representing faith-based and community organizations, state/local government and secular nonprofit agencies, and independent grant writers.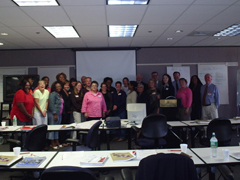 Grant writing workshop participants.
The audience was treated to an educational two days by David Carradini, a senior advisor in the Headquarters Office of Faith-Based and Community Initiatives. There was something of value for everyone, whether they were professional grant writers or just beginning and trying to decide if they should become a 501(c)3 tax-exempt nonprofit.
The session included organizational development, legal do's and don'ts, Five Factors for Awards and the Art & Science of Grant Writing. Participants enjoyed breakout sessions where each group had the chance to put into practice grant writing techniques that brought a sense of reality to the concepts taught.

Breakout sessions were fun as well as informative.
This was the fifth session of grant writing training conducted in Connecticut within the last two years. Find out more about HUD's Faith-Based and Community Initiative by calling Marilyn Diaz, Faith-Based Liaison at the Hartford Field Office at (860) 240-4800 ext. 3025.
Content Archived: March 21, 2011