The Wait Is Almost Over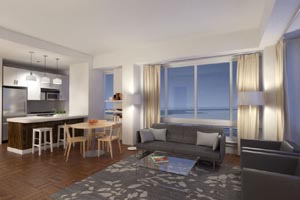 Unit types range from studio to one- and two-bedroom apartments and three-bedroom penthouses; all units contain smart features for greener living
The redevelopment of the long-vacant site of the former Shartenberg Department store at 360 State Street in New Haven is well underway. With an estimated total project cost of $190 million, the former Brownfield site is an entire city block in the heart of downtown. The mixed-use development includes a mixed-income high-rise residential tower with approximately 500 units, 50 of which will be affordable. Plans for the 22,000 square feet of ground floor retail include a full-service grocery store, a bicycle shop, and other retail space. The project includes on-site parking for at least 500 cars.
360 State Street is an excellent example of a unique, public/private partnership that has creatively joined forces to design, finance and construct an energy efficient and environmentally friendly building using Leadership in Energy and Environmental Design (LEED), Green Building principles and standards for environmentally sustainable construction. The building has been designed to achieve LEED ND Platinum certification. The public parking garage will have electric car charging stations and house a Zip car fleet car sharing program. It is Connecticut's greenest and largest residential development (http://www.stamfordplus.com/stm/information/nws1/publish/realestate/360-State-Street-to-open-August-19276.shtml), and boasts the largest fuel cell to operate in a residential building worldwide.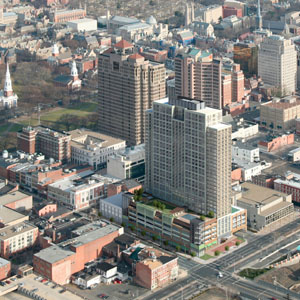 360 State Street, New Haven, CT apartment complex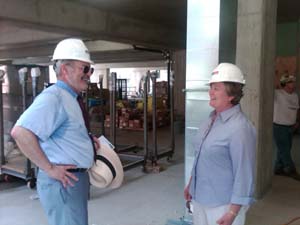 HUD officials Richard Walega, New England Regional Administrator, and Julie Fagan, Hartford Field Office Director, view construction underway at the mixed-income, mixed-use high rise complex
The transit-oriented development is located across the street from the State Street Metro North train station and one-half mile from the Union Station Metro North station. Two bus stops are located along the project site, connecting it to an extensive network of local bus lines. It is within easy walking distance of Yale University, the Yale New Haven Hospital and other downtown employers. Downtown New Haven is highly walkable.
The project is a clear demonstration of what can be accomplished when the right team is assembled, even in a slow economy. The end result will be jobs, tax revenue and housing for New Haven and a major boost to its vibrant and new downtown. The project will provide the state and the city of New Haven and its residents with the following benefits:
489,000 s.f. of new construction containing housing and retail space
$1.5 million in new property tax revenue
500 units of market rate and affordable housing in the Central Business District (CBD)
1,600 union construction jobs
125 new permanent jobs
The 50 affordable housing units within the 500 units of housing conform to state housing goals and strategies. The housing units assisted with state and federal funds will be comparable to the market rate units and will be integrated by floor. No single floor will contain more than fifty percent affordable units. This portion of the project will favorably impact the limited level of affordable housing in downtown New Haven. Visit 360 State Street (http://www.360statestreet.com/affordable) to inquire about affordable housing residency.
Market studies for the market rate units indicate a sustainable market for professional and "empty nester" tenants from the suburbs to move into the city and also potential shared graduate student housing from Yale University Medical and Law Schools.