Stamford's Bayview Towers Undergoes Renovations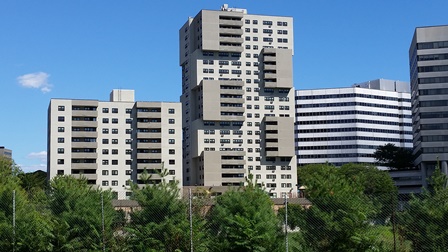 Stamford's Bayview Towers

Bayview Towers Apartments in Stamford, CT, a 200-unit family project consisting of a 21-story high-rise building and an adjoining 9-story building, underwent extensive renovations earlier this year. The renovations included new flooring, kitchen cabinets, counters, fixtures, tubs, showers, vanities, medicine cabinets with energy efficient lighting and appliances. In addition, the rehabilitation included new roofs, windows, plumbing, electrical upgrades and elevator improvements.
HUD has a long history of investment with Bayview Towers, having first financed its construction in 1971 when it was known as New Hope Towers Cooperative Apartments, with initial occupancy achieved in 1973. Cornerstone/Bayview Inc. acquired the project in 1997 in conjunction with a $12.8 million Housing Technical Assistance Grant (HTAG), and the current owner, Bayview Preservation Partners, L,P acquired the project in 2012.
The $13 million total renovation project performed as part of a nearly $18 million refinancing that included funding from a Connecticut Housing Finance Authority (CHFA) mortgage, Low-Income Housing Tax Credit (LIHTC) equity, and funds from Connecticut Light and Power. During the renovation phase, HUD provided project-based Housing Choice vouchers to income-eligible families and continues to provide rental subsidies to 75 low-income families under a 20-year Housing Assistance Payments contract.
Suzanne Piacentini, Field Office Director for HUD's Connecticut Field Office observed that high land costs in Stamford would have made it very difficult or nearly impossible to construct a new affordable housing property comparable to the size of Bayview Towers and located in the same area. "It's a family project in a terrific location with a robust service plan in downtown Stamford. It's where people want to live."
###