Workshop Held in the North Hartford Promise Zone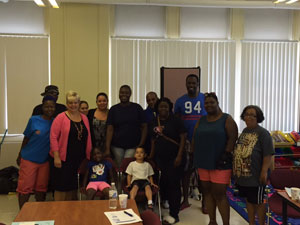 North Hartford Promise Zone residents with HUD Field Office Director Suzanne Piacentini

On July 12, 2016, HUD Hartford Field Office Director Suzanne Piacentini and Community Liaison Marc Boucher presented an overview of how HUD's programs can assist residents of the North Hartford Promise Zone (https://www.hudexchange.info/programs/promise-zones/promise-zones-overview/), including what assistance is available to them, and how they can obtain it. The Adventures in the City Freedom School parent's workshop was held at the Thirman L. Milner School in the Promise Zone. The workshops are part of a new 6-week program sponsored by the Christian Activities Council and offered to parents of children attending the Adventures in the City Freedom School summer program.
Kelli Thomas-Mounds, Parent and Family Engagement Coordinator for the Christian Activities Council, coordinates weekly programs to engage parents on community-related topics chosen by the participants. The Christian Activities Council's Adventures in the City was selected by the Children's Defense Fund as Freedom School summer site.
Hartford's Adventures in the City Freedom School summer program will employ a multicultural, 6-week curriculum that supports children and families through five essential components: high quality academic enrichment, meaningful parent and family involvement, civic engagement and social action, intergenerational servant leadership development, and nutrition and health.
###